Easy Escapes: Lanzarote
Niki Browes jets to the Canary Islands for a sunshine break with her toddler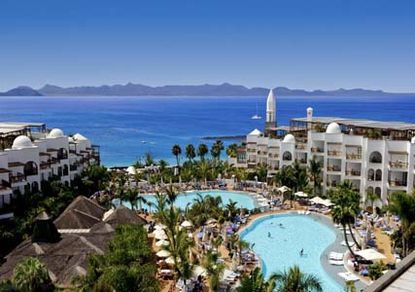 Niki Browes jets to the Canary Islands for a sunshine break with her toddler
Niki Browes jets to the Canary Islands for a sunshine break with her toddler
Why go? Lanzarote is a four-and-a-half-hour flight south and has sunny weather virtually all year. It's family-friendly and also the most stylish-looking Canary Island, with all the favourite things we love about a holiday to Spain, like wine, tapas and the mañana lifestyle.
When? Whenever… but if you're craving a spot of winter sun and a much needed injection of vitamin D, this is one of the best options for an instant escape from our bleak British weather. You can get charter flights from many UK airports, while British Airways (ba.com) starts direct scheduled flights from Gatwick on 31 March. We stayed in Playa Blanca, a popular resort in the south of the island, where the best place to stay is around the marina.
Family fiesta: grab some sunshine at the Princesa Yaiza Suite Hotel Resort
You really must... Go diving, it's the perfect way to wash away the cobwebs. Rubicon Diving (rubicondiving.com) offers trips from Playa Blanca and you'll get to dive twice – with warming coffee in between − at sites between Lanzarote and the neighbouring island of Fuerteventura. We spied barracuda, butterfly fish and electric rays amid the atmospheric underwater volcanic landscape, along with stunning black and orange coral. Afterwards, take a stroll to the marina (marinarubicon.com), which is made up of chic floating wooden terraces and bridges. Take your pick from one of the many upmarket bistros and restaurants for a bite to eat. And the best thing? There's not a single McDonald's in sight.
Stay at: For a five-star experience head for the 385-room Princesa Yaiza Suite Hotel Resort (princesayaiza.com, doubles from £180 with breakfast). Travelling with Burt, my three-year-old toddler, my partner and I booked a junior suite (from £202) which came with a separate bedroom and living area with kitchen facilities − almost like a little flat.
The hotel is decorated in a colonial Canarian style and feels maintained to within an inch of its life. Poolside, there are luxe sun loungers aplenty and a choice of two outdoor pools (both pretty freezing – so only for the brave), two warm Jacuzzis (one of which is child-friendly), and an indoor marine water pool (although you have to pay an extra £16 per hour for the pleasure). This sits within the large Thalasso Spa (50 treatment rooms!) where you can choose from a multitude of high-end treatments. I tried the Mother of Pearl facial with pearl extracts and soy protein, along with an electric exfoliate, to renew and re-moisture (£79). The result? Actually really noticeable. My skin felt shiny, smooth and re-nourished, although I was conscious my face smelt odd afterwards. Returning to the sun lounger, my man wondered aloud if I'd been for a curry, not a facial...
Breakfast is buffet style − and doesn't disappoint − and there are eight restaurants with high standards. At lunchtime we became rather attached to Don Giovanni, an Italian serving proper homemade fodder, and the resort is extremely family friendly with a kids club, indoor play centre and children's disco every evening (with resident hotel mascot Kiko, no less). It all mean parents have a little more time to relax. Would I stay here if I didn't have a child? Nah − the Princesa Yaiza's family facilities are so damn good the place is swarming with little ones.
Heavens above: chill out at the Thalasso Spa in the Princesa Yaiza Suite Hotel Resort
Dine at: La Casa Roja (casarojalanzarote.com) in the marina for fresh fish straight from the sea you're overlooking (warning: you'll get serious boat envy while you dine). We went back a second time specifically for its seared tuna and garlic-grilled prawns – the best thing we tasted on the island. The bar Café del Mar soon became a regular stop off for a nightcap – try the sangria blanca (yup, that's sangria with white rather than red wine.)
Tip: the key to keeping going out classy is to stay around the marina area, which is towards the left of the Princesa Yaiza. Turn right and you're headed for the main stretch of Playa Blanca. While it's not as commercial as the holiday strips on neighbouring islands, and certainly more picturesque (a local artist, César Manrique, had a major influence in planning regulations on the whole island and wisely banned high-rises, unlike, say, in Tenerife), its restaurants seem to serve chips. With everything...
Bring home: Lanzarote is a volcanic island, and very dry, but perfect for farming aloe vera, the 'super' herbal remedy with 300 biological agents and rich in vitamins A, C, E, B1, B2 and B12. The liquid can sooth the skin whilst taken internally, and it's a huge benefit to all our physiological functions. We bought an organic gel from a local stall at the street market at Marina Rubicon (marinarubicon.com), which is held every Wednesday and Saturday, 9am–2pm). Oh, and don't forget to buy a miniature fluffy Kiko, or your kid(s) will never forgive you.
It's black and white: head to Haría to appreciate the beauty of Lanzarote (Turespaña) Book now: In March seven nights at Princesa Yaiza Suite Hotel Resort costs from £1,019 per person through Sovereign Luxury Travel (0844 415 1936; sovereign.com), including flights from Gatwick, transfers, breakfast, £66 resort credit, two buffet dinners and one spa pool admission. Book by 31 January.
Info: A scantily-clad Raquel Welch starred in One Millions Years BC (1966), filmed on the sandy beaches of the island, while The Stone Roses were obviously smitten − they shot the videos to 'Fools Gold' and 'I Wanna Be Adored' here. Marco Polo Lanzarote (£5.99; Mairdumont) is a detailed guide book with a handy pull-out map, or see turismolanzarote.com.
Celebrity news, beauty, fashion advice, and fascinating features, delivered straight to your inbox!