The two cities you need to explore for the ultimate American experience
Chicago and Detroit - it's time discover the cities which have shaped popular culture like no other...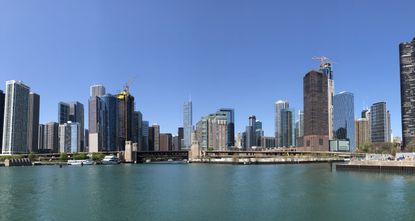 Chicago and Detroit - it's time discover the cities which have shaped popular culture like no other...
Chicago. Birthplace of deep pan pizza and a plethora of great Americans from Karlie Kloss to Walt Disney, did not disappoint.
Firstly, the shopping in the city is a must. Much like many of the great retail destinations of the world from Oxford Street to Madison Avenue, Chicago's 'Magnificent Mile' has every brand you could ever wish for. However, when we visited, unlike more well-known shopping meccas there aren't the hoards of people or dreadful queues, creating a shopaholic's paradise.
However if Chicago teaches you one thing it is not that highstreet shopping can still be a joyous experience but it is the simple notion of looking up. A number one recommendation during your stay there is to take a river tour of Chicago's architecture, Shoreline Sightseeing offers one of the best. Imposing modern glass skyscrapers merge with art deco masterpieces to create one of the most iconic skylines in the world.
Skylines aside the US is also known for its big portions and Chicago does not disappoint on that front either. Lunch at the aptly named River Roast serves an award-winning menu of contemporary American tavern fare in bountiful boards and plates all made with top quality produce. Their rustic sharing charcuterie boards and slice-as-big-as-your-head desserts (see above) are all delicious.
However, if the large portions get slightly overwhelming make sure you pay a visit to the Michelin star Dusek's Board & Beer. Part of the new wave of relaxed fine dining Dusek's light food and range of limited edition beers feels east-London hipster without trying too hard.
A visit to the Chicago History Museum will also help to explain the geography, economy and even personality of the city. Named 'The Second City' not due to its relation to New York City but because of a literal phoenix-from-the-flame moment after the Great Chicago Fire in 1871. An industrious rebuild to produce an easy to navigate grid system and epic steel structures has installed a longstanding sense of pride for everyone that lives there.
Of course, Chicago is also synonymous with music and particular the blues. And the city offers ample opportunity to explore a thriving live music scene. Trips to Chess Records as well as Kingston Mines and the Green Mill Cocktail lounge transport you into a scene from a timeless movie, where talented musicians entertain attentive audiences huddled around half moon tables. Magic.
And if you enjoy the music, culture and food in Chicago then a short trip to Detroit is a must...
Home of Motown music and therefore inspiration to essentially every chart song since the 60's, Detroit is like Chicago's cooler cousin. With a slightly undiscovered vibe and an overwhelming feeling of positivity; the people are welcoming and want to share their city with you.
The Fox Theatre is also a spectacular must-see. From Frank Sinarata to One Direction practically every music legend has graced the hallowed grounds (there's even a door with all their signatures side-by-side). The hallowed grounds of the Motown Museum are also a must, you can almost feel the presence of the modern day icons (Michael Jackson, Stevie Wonder, Diana Ross...) who started their careers and recorded their most infamous tracks there.
Again, the food in Detroit surpassed expectation. Lunch at the Rusted Crow was downtown dinning at it's best. With plenty of locals grabbing and going and a relaxed atmosphere, we could not recommend their salmon brussel sprout salad more. And if you fancy dressing up? At the other end of the gastronomic spectrum is the sophisticated Grey Ghost. With a cocktail menu including the 'Repeat Offender' a concoction of gin, cocchi Americano, aloe, lime and orange blossom the menu is elegant and delicious. Definitely the type of place where you literally need to order one of everything.
You can fly directly to Chicago with Norwegian airlines and we recommend staying at The Blackstone. Boasting views of Lake Michigan and Grant Park everything is within walking distance, which is a city break must.
And in Detroit? The MGM Grand Hotel offers total indulgence and is only a stones throw from all the best bars, restaurants and sports venues.
So if Chicago and Detroit are not at the top of your US bucket list already, then they should be. If you like good food, good music and good people (and let's face it, who doesn't?!) then definitely pay them a visit - the authentic America awaits!
For more information please visit www.visittheusa.co.uk
Booking your trip...
Norwegian operates a daily flight direct from London Gatwick to Chicago and all flights are operated by a fleet of brand new Boeing 787 Dreamliner aircraft with two cabins, premium and economy.
Fares start from £150 one-way and £280 return in LowFare economy and £499 one-way and £909 return in Premium including all taxes and charges and subject to availability, click here to book.
The Blackstone, Autograph Collection (Chicago) rooms from £142/night in low season and from £435/night in high season, click here to book.
MGM Grand Hotel (Detroit) rooms from £120 in low seasons and up to £187 in high season.
Celebrity news, beauty, fashion advice, and fascinating features, delivered straight to your inbox!