Move your dining room outdoors to make the most of summer
With warmer days approaching, it's time to take it outside with the hip Hinterland collection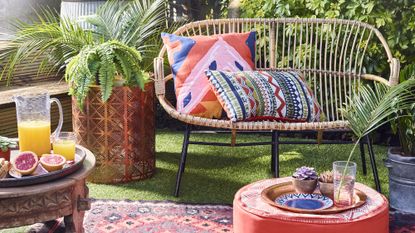 With warmer days approaching, it's time to take it outside with the hip Hinterland collection
Promotional Feature
Spring is here, and hibernation is finally over - hurrah to that. As distant memories of warmer weather, beautiful blooms and dining al fresco come back to us, we find ourselves looking forward to relaxing and entertaining outdoors in the long hazy days of summer ahead.
With outside spaces now an extension of our home, the new Hinterland outdoor collection from Sainsbury's will have you running for the door in no time. Channelling the tribe vibe, this new edit of artisan-style picnic ware and ethnic cushions means your love of interiors and homeware will no longer be confined to indoors.
Inspired by African and South American style, this is a well-travelled collection. Aztec cushions, intricately printed plates and coloured glass-effect melamine tumblers will have you setting up your own corner of paradise, whether you're kicking back with a book or turning your garden into an outdoor dining room. Bliss.
Want to make a statement? Just because you're out in the garden, doesn't mean you have to resort to the chipped, weathered pots that have been lying around all winter - not when you can show off your flowers in this striking copper planter, £18. Warm and luxurious, it will blend perfectly into any garden and plays delicately with the light and shadow of the day.
Calling all picnic lovers! If your idea of summer heaven is lazing around in the garden and dining al fresco, these gorgeous Hinterland dipping bowls, £3, are just for you. Simply fill with hummus, yogurt-tahini and spicy carrot dip, spread out some pitta bread on a vibrant round platter and you'll be instantly transported to more exotic climes. Just add sun.
Warm summer evenings - yes please! Make the most of them with romantic lighting. Illuminate your garden with pretty lanterns and string lights to transform your outdoor space into a magical night garden. With the summer sun gently fading away, an array of pretty red Hinterland glass jar lanterns, £6 each, will create a warm atmosphere for your evening soirée...
The new Hinterland outdoor collection is available at selected Sainsbury's stores now. To find your nearest store, visit sainsburyshome.co.uk
Celebrity news, beauty, fashion advice, and fascinating features, delivered straight to your inbox!
Zoe is a features writer and books editor for Woman&Home. Over the last fifteen years she has worked on magazine titles including Marie Claire, Now, LOOK, Woman's Weekly and Junior.
She loves to travel and is a self-confessed luxury hotel junkie following a honeymoon stay in Ravello on the glamorous Amalfi Coast, which she claims spoilt her forever. Having also visited Lake Como, Puglia, Tuscany (where she got married), Venice and Rome on more than one occasion, it's no surprise that she hopes to live in Italy one day.
Travelling with family is important to Zoe, appreciating the time she spends on holiday with her husband and two daughters. Although she loves Italy, it's Greece that's become their family holiday place. With an intoxicating mix of beautiful beaches, warm weather and chic hotels catered to families, it's a win-win for everyone.
Her most memorable trips would have to be South Africa and Canada for their vast, wild and dramatic landscapes, New York for that 'film set' feeling and swimming with pigs in The Bahamas.
The Norway Fjordes and Vancouver are firmly on her travel wish list, but she is just as fascinated by Europe's cities and could spend most of her life on short breaks - although her beach-loving husband may have something to say about that.
Always looking for that escape from the norm, a source of inspiration and relaxation away from a hectic home and work life, Zoe is most likely to be found googling 'out-of-this-world hotels' and then working out how to get there…