You need to watch the royals' celebrity mental health videos
'You cannot resolve a mental health issue by staying silent'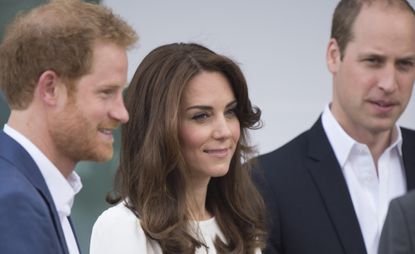 (Image credit: Tim Rooke/REX/Shutterstock)
'You cannot resolve a mental health issue by staying silent'
As part of The Duke and Duchess, and Prince Harry's Heads Together campaign, the royals have encouraged more celebrities to speak out about their mental health.
Depression, anxiety and suicidal thoughts are a very real part of every day people's lives and it's about time we talk about how to deal with negative thoughts.
William, Kate, and Harry, who is now dating actress Meghan Markle, invited rapper Professor Green, cricket player Andrew Flintoff, comedian Ruby Wax, as well as Tony Blair's former spin doctor Alastair Campbell to talk openly about their battles with depression and their general mental wellbeing.
In a joint statement, the royal trio have said: 'Since we launched Heads Together last May, we have seen time and again that shattering stigma on mental health starts with simple conversations. When you realise that mental health problems affect your friends, neighbours, children and spouses, the walls of judgement and prejudice around these issues begin to fall.'
'And we all know that you cannot resolve a mental health issue by staying silent. Attitudes to mental health are at a tipping point. We hope these films show people how simple conversations can change the direction of an entire life.'
Each interview has been filmed by some of Britain's best filmmakers, including the director Stephen Frears who was behind blockbusters The Queen, Philomena and Florence Foster Jenkins, and John Madden, who brought us Shakespeare in Love.
The snippet shows Professor Green (real name Stephen Paul Manderson) open up to Andrew 'Freddie' Flintoff about his father's suicide and how it affected him growing up - and how scared he was of breaking down in front of his grandmother about it. The clip also sees him admit that mental health issues cannot be resolved by staying silent.
Freddie responded by admitting that the hardest thing about admitting his depression to himself was talking about it.'I'm not a big talker. I'm from the north of England, from a working-class family. We don't talk about our feelings.'
The royals have also released a YouGov survey that documents public attitudes towards mental health. The results found that almost half the population had spoken about mental health within the last three months - but that it was women who were more likely to talk about the issue than men and young adults over people over the age of 65.
The campaign is set to break the stigma of talking about mental health and to make mental health advice more readily available.
Celebrity news, beauty, fashion advice, and fascinating features, delivered straight to your inbox!