Seen cosy cardio trending on TikTok? How it promises to be the simplest yet most effective Autumn workout
It might just be our favourite fitness trend yet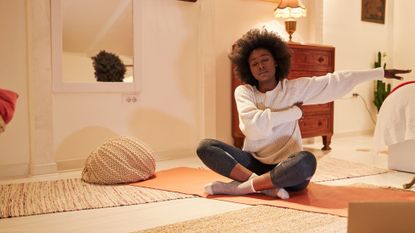 (Image credit: Getty Images)
There have been more exercise trends going viral on TikTok this year than we care to count. The latest? "Cosy cardio", in short, a form of cardio that's - yep, you guessed it - labelled as cosy because it's designed to be completed from the comfort of your home.
It might only be mid-September but sweaty garden HIIT sessions and balmy evening long runs are sadly a thing of the past. Summer already feels a distant memory with autumn rolling in - and fast. That's where the latest viral fitness trend comes in - a more comfortable way to workout if you really can't face cardio workouts that mean bracing the cold, wind and rain.
With over 4.3 million views on the TikTok hashtag, it's fair to say it's already proving popular, with many of the platform users sharing their own interpretation of the workout featuring candles, soft pyjamas and chilled music.
So, what actually is cosy cardio? Who invented it? And is the workout any good or just another fitness fad doing the rounds on social media?
We've bought you explainers on the other trends doing the rounds - from the 3-2-8 method, to the Hot Girl Walk, to soft hiking. Next up: everything you need to know about cosy cardio, according to a personal trainer.
Cosy cardio is trending: your guide
What is cosy cardio?
Coined in July this year by US wellness influencer Hope Zuckerbrow, she posted a TikTok video that's now been watched more than 1.7 million times.
In short, cosy cardio is about mellowing the environment you exercise in and reframing it into something cosy and enjoyable.
In Zuckerbrow's video, she takes us through her morning cosy cardio routine: making an iced coffee, putting on her fluffy socks, choosing a show on TV and then getting on to her walk pad for a 40-minute session.
Why is cosy cardio good for both physical and mental health?
Cosy cardio asks you to forget the "no pain, no gain" mentality and sweaty, hardcore gym sessions and instead embrace a more chilled-out and gentle approach to working out.
It also reminds people that workouts should be enjoyable, explains Jess McDonald, Les Mills trainer and adidas sponsored athlete. "Not all workouts have to be "go hard or go home," she stresses. "Working out gently is hugely important, too."
Why? Well, because "your body needs time to re-energise," she goes on. "It gives you time to focus on how you feel, tapping into what you need on a particular day. Not only that, but it allows you to focus on what will fill your cup rather than drain it."
Think about it: when you feel tired, a gentle walk or a stretch session in your comfy clothes could be a great way of getting moving. Jam-pack your schedule with hard sessions and you not only run the risk of injury but are far more likely to skip the sessions altogether.
Attitudes to fitness and exercise have changed over recent years, points out McDonald. "Ever since 2016 - and especially during and after the pandemic - we've seen a demand for hybrid workouts that fit into people's lifestyles more." Case in point: a recent global survey by Les Mills on the exercise habits of Gen Z found that 72% of regular exercisers are doing both gym and at-home workouts.
The cosy cardio trend slots in well for the needs of this age group, not to mention the third of you that find gyms intimidating (one 2022 survey of UK adults found that nearly a third of women cited intimidation in the gym as the biggest barrier for them joining). "Cosy cardio allows people to diversify their exercise routine and opens the door for anyone intimidated by the gym to improve their physical wellness at home," highlights McDonald.
Not just that, but cosy cardio also hints at another shift in the way we tackle fitness: now, more than ever, we want workouts to offer a diverse range of benefits spanning both physical and mental, says McDonald. This focus on a holistic approach is mirrored in cosy cardio as it encourages you to "enjoy a workout at your own pace, in your own space."
How can I practice cosy cardio at home?
While Zuckerbrow's cosy cardio routine involves taking to her walking pad, McDonald points out that you could try any home workouts, from low impact workouts to 15-minute HIIT workouts.
She suggests trying a few until you find the one you genuinely enjoy and look forward to doing - after all, that's the only way you'll stick at it.
"I tried cosy cardio and loved it… but only in the evening"
Laura Kaar, a dietician, loves fitness. When she saw the cosy cardio trend pop up on her feed, she couldn't wait to give it a go.
"After I saw cosy cardio doing the rounds on social media, I decided to do a flowy yoga session at home."
"Having nice music and candles to complement my workout was very relaxing. While I was quite sore from lifting heavy weights the day before, it was nice to do a calm, restorative kind of movement that soothed both my body and mind."
"My only one negative: I almost found it too relaxing to do in the morning - I much preferred getting cosy come the evening as a way of relaxing and winding down. While it might not set you up in the best way for intense exercise, I did find it a lovely and effective way of making movement less intimidating."
Shop MC UK's go-to cosy cardio products now:
By now, you'll have seen the Stanley cup doing the rounds on social media - a great visual reminder to drink water and stay hydrated throughout workouts and your working day. Plus, it keeps liquid at whatever temperature you put it in the tumbler at, be that ice cold water or a warm tea.
With a burn time of up to 40 hours, these candles are handcrafted In Hertfordshire and have a burn time of up to 40 hours. They're sustainably made, too, using natural soy wax and FSC certified labels.
Celebrity news, beauty, fashion advice, and fascinating features, delivered straight to your inbox!
Amy Sedghi is a freelance journalist, specialising in health and fitness, travel, beauty, sustainability and cycling.
Having started her career in The Guardian newsroom working with an award-winning team, Amy's proud to have reported on a variety of topics, speaking to a range of voices and travelling far and wide to do so. From interviews on ski lifts to writing up breaking stories outside courtrooms, Amy is used to reporting from a range of locations (she's even been known to type up a story in a tent).
She also loves being active, spending time outdoors and travelling - with some of her favourite features she's worked on combining all three. Cycling and eating her way round the Isle of Man, learning to sail on the Côte d'Azur and traversing the Caminito del Rey path in Spain are just some of her highlights.
Covering a diverse range of subjects appeals to Amy. One minute she may be writing about her online styling session with Katie Holmes' stylist and the next she's transporting readers to the basketball courts of Haringey where she joined a group trying to lower knife crime in the capital.
While at university, Amy was awarded The Media Society bursary. Following her stint at the Guardian, Amy worked at Google and as well as writing for Marie Claire, she regularly contributes interviews, features and articles to National Geographic Traveller, The Guardian, The Independent, The Telegraph, Stylist, Refinery29, Glorious Sport, Cycling Weekly and Rouleur.
When she's not writing, Amy can be found trying to get through her towering stack of books-to-read, cycling down at Herne Hill Velodrome or looking for the next place to eat and drink with friends.