The best ski wear for whether you're into black runs or après ski
In the words of Rachel Green, "shoop, shoop, shoop."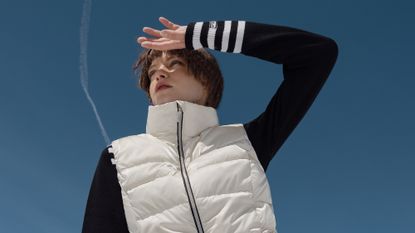 (Image credit: IKKS)
With the colder months finally upon us and the festive break just around the corner, the search is officially on for the best ski wear, whether that's ski jackets, snow boots, salopettes or a cosy jumper. However, finding cool pieces that don't compromise on the sports tech can be a bit of a trick business.
So I've done all the hard work for you and pulled together some pieces that are practical yet stylish, and work for all snow activities, from hitting the slopes to winter walks and those all-important après ski hot toddies.
Ski jackets
No matter your budget, there are so many ski jackets to pick from this season. High street stores, like H&M and Uniqlo offer affordable ski wear without compromising on performance, though of course, it's worth noting that specialised sports brands might have access to better technologies, which would be reflected in the price. Designers such as Prada and Louis Vuitton are also joining in on the slope action, with Insta-worthy outfits that will keep you snug and stylish.
Ski suits
Whether you want retro salopettes or chic ski jumpsuits, there's literally a style to suit every taste, though I'm loving the retro vibes offered by the likes of Perfect Moment and Cordova. It is a higher price point for sure, but it will make you feel like you're the next 007.
Ski boots
If you're a regular skier, then it's definitely worth investing in a pair of ski boots, even if you're only going once a year. A custom-fitted pair of boots will actually reduce the risk of injuries and better your performance - plus it's a more hygienic option.
I personally rate the Snow + Rock boot fitting service, which is actually available all year round. It starts with a foot analysis and boot customisation, and a few questions about your skiing level (whether you're a regular, go for black pistes, are off piste etc). Then you determine your budget, and after a few tests to see if the boot fits, have a custom footbed made to perfectly mould the contours of your feet.
I've also included some snow boots for general walks and hikes.
Ski wear rental
Of course, if you're not a regular skier, one of the most cost-effective ways to fit out your holiday wardrobe would be to rent some ski gear. Rather than buying something you might not wear again, renting provides both a more affordable and sustainable solution. While you can rent ski wear from regular clothing rental platforms such as MyWardrobe HQ and HURR, there are now also dedicated ski wear rental brands around including Blanqo and Eco Ski.
Apres ski clothing
There's nothing like a cosy Fairisle jumper, shearling jacket or knitted joggers to really make you feel stylish off the slopes. And who doesn't love a retro Moon Boot, especially when it's a pink one? Pardon the pun, but the above is just the tip of the iceberg when it comes to women's ski wear. Keep scrolling to shop my edit of the best essentials, from ski goggles to ski jackets and suits.