13 Kenzo moments we love - and that's not even counting the H&M collab
We celebrate Carol Lim and Humberto Leon's 5 years at the helm. They're celebrating with a hot H&M collaboration, which launches tomorrow. Here are the best-ever Kenzo moments...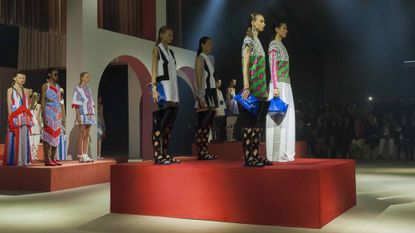 (Image credit: Alessia Gammarota)
We celebrate Carol Lim and Humberto Leon's 5 years at the helm. They're celebrating with a hot H&M collaboration, which launches tomorrow. Here are the best-ever Kenzo moments...
Another day, another designer/high street collab...so said NONE of us at MC Towers, once we'd clapped eyes on the Kenzo collection for H&M, adding to the long list of best Kenzo moments imprinted on our brains. As we've previously said (or dribbled), the collection launching tomorrow takes the idea to a new level of fabulous. It's got animal print! It's got tiger heads! It's got stiff silk that feels like it should cost £1,000! But most of all, it's got a real sense of the cool, kitsch, slightly sporty vibe that designers Carol Lim and Humberto Leon have injected into Kenzo since they took over five years ago.
When Kenzo Takada arrived in Paris from his native Japan and launched his label in 1970s Paris, it was radical - he and a young Yves Saint Laurent introduced the idea of 'ready to wear' clothes and headline-grabbing fashion shows. All the old-school French houses were still showing couture on haughty models, walking very slowly round a silent salon.
Takada's shows, by contrast, were filled with colour and action - girls dancing down the runway, models performing, and clothes that were a riotous mix of ethnic influences and print.
His signature patchworks of fabric began as less design concept, more make-do-and-mend. When he first started out, he could only afford fabric from fleamarkets, so he came up with a way to splice them all together - a look that's become recognisable Kenzo and that Lim and Leon continue to put their take on to this day.
Following his retirement, the label had a quiet phase, under the creative direction of Antonio Marras. When Carol and Humberto were given the job of reinvigorating it in 2011, it was a match made in heaven.
They were already fashion royalty Stateside, as the owners of New York store Opening Ceremony - selling the coolest product from a range of niche brands and producing their own cult in-house collection, beloved of celebrities like their pal Chloe Sevigny, who modelled in their debut show for Kenzo, for Spring/summer 2012.
Here are some of the best Kenzo moments to hit the Paris catwalks...
Spring/summer 2016 show
Models on motorised blocks controlled by wifi, a giant arch set - oh, and some incredible graphic print mash-ups
Spring/summer 2014 show
A rainfall on the runway, and giant speakers covered in water. We'd expect nothing less.
Spring/summer 2015 show
The venue? A Parisian skatepark. The concept? A digital avatar called Knola, who appeared on giant screens as a backdrop to the models.
Autumn/winter 2014 show
A collaboration with director David Lynch resulted in a giant mirrored set, producing warped, sinister reflections of the models as they walked - a bit like one of his films. But in the best outfits ever.
Autumn/winter 2013 show
Held in a defunct Parisian department store, the exquisite rococco balustrades and balconies were the perfect backdrop for a collection that featured their signature eye design on everything from sweatshirts to jewellery.
Spring/summer 2013 show
A judo hall was the venue for a collection inspired by a trip the designers took to the jungles of Thailand, and also Kenzo's original 'Jungle Jap' store.
Autumn/winter 2012 show
The duo turned the Universite Pierre et Marie Curie into a futuristic mall, with girls dancing to Dolly Parton's '9 to 5' under ribbon-like neon lights.
Spring/summer 2007 show
Previous creative director Antonio Marras' romantic vision, as worn by model Coco Rocha with bells on - the floatiest, flowery dress billowing over the catwalk.
Spring/summer 2011 show
Antonio Marras said goodbye to his tenure at the house with an ultra-ultra-Kenzo collection, turning up the volume on its heritage of Russian-doll prints and fabric clashes
1981 fashion show
A young Iman on the catwalk in a multi-print kaftan. Need we say more?
Autumn/winter 1985 show
Kenzo definitely had a sense of humour. And this collection was definitely cool for cats.
Autumn/winter 1982 show
When Moschino's Jeremy Scott put Charlotte Free on the catwalk in rollerskates a couple of years back, was he paying homage to this 80s moment?
Kenzo's one of the most street-styler-approved labels ever. Who can forget the time no fashion show was complete without gangs of fashionistas wearing this sweatshirt? When it started appearing on blogs and pavements everywhere, it was a best Kenzo moment in the making...
Celebrity news, beauty, fashion advice, and fascinating features, delivered straight to your inbox!