39 gorgeous red carpet looks from the Serpentine Summer Party
A masterclass in dressing for those summer Gala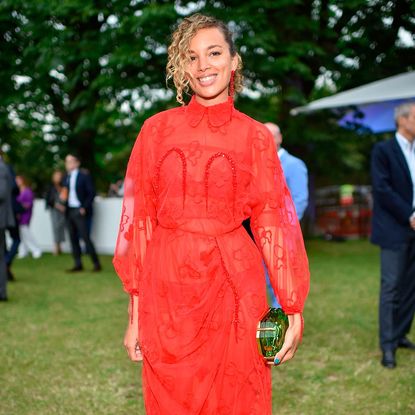 (Image credit: Rex)
A masterclass in dressing for those summer Gala
The annual Serpentine Summer Party took place last night in London and it seems all of London's style set were there.
Arguably, one of the most anticipated events in the summer social calendar, the Serpentine Summer Party at The Serpentine Gallery in Hyde Park is always full-to-the-brim with A-listers in their most fabulous summer gowns.
No Serpentine party is complete without a gaggle of supermodels and everyone from Kate Moss, Naomi Campbell, Erin O Connor and Jade Parfitt were in attendance. Lily Donaldson, Georgia May Jagger and Chantelle Brown Young (also known as Winnie Harlow) represnted the new guard in the modeling world and were in suitable stylish attire.
The art crowd was represented too with our latest girl crush, the super talented Phoebe Collings-James making an appearance dressed in a striking red Simone Rocha dress.
Fashion designers, Bella Freud, Amanda Wakeley, Charlotte Dellal andAlice Temperley were dressed in their own designs for the summer soiree.
Hollywood heavy hitters like Sienna Miller, Thandie Newton, Noomi Rapace were also in attendance as well as A-list celebrities from the music world, such as Dame Shirley Bassey and Rita Ora in a stunning jumpsuit.
For a dose of summer style inspiration, step this way and click through the gallery to see who wore what to The Serpentine Summer Party 2016
See what they wore to The Serpentine Summer Party 2015
Kate Moss, Serpentine Summer Party, July 2016
First up, Kate Moss teams her printed full length dress with cropped black jacket for the evening.
Lily Donaldson, Serpentine Summer Party, July 2016
Lily Donaldson carries Sophie Hulme at the Serpentine Summer Party, July 2016
Maisie Williams, Serpentine Summer Party, July 2016
Maisie Williams at the Serpentine Summer Party, July 2016
Georgia May Jagger, Serpentine Summer Party, July 2016
Georgia May Jagger wearing Hilfiger Collection at the Serpentine Summer Party, July 2016
Immy Waterhouse, Serpentine Summer Party, July 2016
Immy Waterhouse wears Hilfiger Collection at the Serpentine Summer Party, July 2016
Erin O'Connor, Serpentine Summer Party, July 2016
Erin O'Connor wears Bora Aksu at the Serpentine Summer Party, July 2016
Ellie Goulding, Serpentine Summer Party, July 2016
Ellie Goulding wearing Hilfiger Collection at the Serpentine Summer Party, July 2016
Naomi Campbell, Serpentine Summer Party, July 2016
Naomi Campbell wearing Hilfiger Collection at the Serpentine Summer Party, July 2016
Phoebe Collings James, Serpentine Summer Party, July 2016
Phoebe Collings James wears Simone Rocha at the Serpentine Summer Party, July 2016
Sienna Miller, Serpentine Summer Party, July 2016
Sienna Miller wears a HIlfiger Collection dress with Noor Fares jewellery at the Serpentine Summer Party, July 2016
Thandie Newton, Serpentine Summer Party, July 2016
Thandie Newton at the Serpentine Summer Party, July 2016
Rita Ora, Serpentine Summer Party, July 2016
Rita Ora at the Serpentine Summer Party, July 2016
Winnie Harlow, Serpentine Summer Party, July 2016
Winnie Harlow at the Serpentine Summer Party, July 2016
Laura Jackson, Serpentine Summer Party, July 2016
Laura Jackson wearing Hilfiger Collection at the Serpentine Summer Party, July 2016
Jade Parfitt, Serpentine Summer Party, July 2016
Jade Parfitt at the Serpentine Summer Party, July 2016
Laura Bailey, Serpentine Summer Party, July 2016
Laura Bailey at the Serpentine Summer Party, July 2016
Noomi Rapace, Serpentine Summer Party, July 2016
Noomi Rapace wearing Mulberry at the Serpentine Summer Party, July 2016
Jamie Campbell Bower and Matilda Lowther, Serpentine Summer Party, July 2016
Jamie Campbell Bower wearing Hilfiger Collection and Matilda Lowther at the Serpentine Summer Party, July 2016
Jaquetta Wheeler, Serpentine Summer Party, July 2016
Jaquetta Wheeler at the Serpentine Summer Party, July 2016
Donna Air, Serpentine Summer Party, July 2016
Donna Air at the Serpentine Summer Party, July 2016
Emilia Fox, Serpentine Summer Party, July 2016
Emilia Fox wearing a dress by Suzannah and Paul Andrew shoes at the Serpentine Summer Party, July 2016
Cressida Bonas, Serpentine Summer Party, July 2016
Cressida Bonas wearing Hilfiger Collection at the Serpentine Summer Party, July 2016
Dame Shirley Bassey, Serpentine Summer Party, July 2016
Dame Shirley Bassey at the Serpentine Summer Party, July 2016
Clara Paget, Serpentine Summer Party, July 2016
Clara Paget at the Serpentine Summer Party, July 2016
Charlotte Dellal, Serpentine Summer Party, July 2016
Charlotte Dellal at the Serpentine Summer Party, July 2016
Charlotte Wiggins and Sam Rollinson, Serpentine Summer Party, July 2016
Charlotte Wiggins wearing Hilfiger Collection and Sam Rollinson at the Serpentine Summer Party, July 2016
Boris and Lily Becker, Serpentine Summer Party, July 2016
Boris Becker wears Hilfiger Tailored while Lily Becker wears Hilfiger Collection to the Serpentine Summer Party, July 2016
Amber Anderson, Serpentine Summer Party, July 2016
Amber Anderson at the Serpentine Summer Party, July 2016
Amanda Wakeley, Serpentine Summer Party, July 2016
Amanda Wakeley at the Serpentine Summer Party, July 2016
Alexander Dellal and Elisa Sednaoui, Serpentine Summer Party, July 2016
Alexander Dellal and Elisa Sednaoui at the Serpentine Summer Party, July 2016
Alice Naylor Leyland, Serpentine Summer Party, July 2016
Alice Naylor Leyland at the Serpentine Summer Party, July 2016
Alicia Rountree, Serpentine Summer Party, July 2016
Alicia Rountree at the Serpentine Summer Party, July 2016
Alice Temperley, Serpentine Summer Party, July 2016
Alice Temperley at the Serpentine Summer Party, July 2016
Caroline Sieber, Serpentine Summer Party, July 2016
Caroline Sieber at the Serpentine Summer Party, July 2016
Biana Jagger, Serpentine Summer Party, July 2016
Bianca Jagger at the Serpentine Summer Party, July 2016
Arizona Muse, Serpentine Summer Party, July 2016
Arizona Muse at the Serpentine Summer Party, July 2016
Bella Freud, Serpentine Summer Party, July 2016