8 Must-See Moments From The Oscars 2015
Don't bother watching the lengthy ceremony, just catch up on the best bits from the Oscars 2015 here.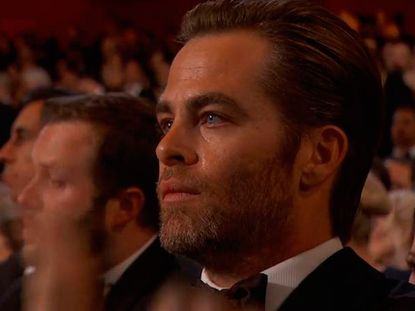 Don't bother watching the lengthy ceremony, just catch up on the best bits from the Oscars 2015 here.
The bit where Lady Gaga nailed her Sound of Music tribute...
Sorry, Gaga, but we'd kind of forgotten you could sing. What with all your distracting dresses made of meat and that perfume made of blood and semen. But what a performance she put on at the Oscars 2015. Her soaring vocals were note-perfect and earned her a standing ovation from the starry audience. The Sound of Music
The bit where John Legend and Common made some beautiful men cry...
The sight of Chris Pine weeping in reaction to John Legend and Common's performance of Glory was possibly the cutest thing we've ever seen. Their rousing duet about the civil rights movement was deeply moving and saw not just Chris Pine reduced to tears but also David Oyelowo. John Legend and Common went on to win the Oscar for the song from Selma, which chronicles Martin Luther King's campaign to secure equal voting rights through a march from Selma to Montgomery, Alabama in 1965.
The bit where Patricia Arquette asked for one simple thing...
Equal pay for equal work. That's the feminist message the star pushed during her acceptance speech for Best Supporting Actress. She said: 'To every woman who gave birth, to every taxpayer and citizen of this nation, we have fought for everybody else's equal rights. It's time to have wage equality once and for all. And equal rights for women in the United States of America.' It was so good, it made Meryl Streep and Jennifer Lopez do this...
The bit where we were confused...
Keira Knightley and Lady Gaga? Jennifer Aniston and Emma Stone? These showbiz BFFs are blowing our minds even more than the time we discovered Brad Pitt used to date Sinitta. And while we're vaguely on the subject of Lady Gaga, can we take a second to talk about her gloves... Crimson marigolds with an Alaia gown? Odd, but in the grand scheme of all things Gaga, not that odd.
The bit where Gwyneth Paltrow had a Carrie Bradshaw moment...
Gwynnie channelled her inner Carrie in a custom-made pale pink gown by Ralph & Russo Couture. Complete with an oversized flower rosette. Just fabulous.
The bit where Reese Witherspoon championed #AskHerMore...
When interviewed on the red carpet, Oscar-nominated Reese took the opportunity to implore reporters to ask women better, more insightful, questions. Just as they would men. 'This is a movement to say we're more than just our dresses,' she told presenter Robin Roberts. 'There are 44 nominees this year that are women and we are so happy to be here and talk about the work that we've done. It's hard being a woman in Hollywood, or any industry.'
The bit where Jennifer photo-bombed Jennifer...
Ok, it doesn't come close to THE selfie of the Oscars 2014. You know, the one that Ellen DeGeneres snapped of Jennifer Lawrence, Bradley Cooper, Brad Pitt, Angelina Jolie, Lupita Nyong'o and Meryl Streep that became the most retweeted tweet of all time? But this one of Jennifer Aniston and Justin Theroux photo-bombing Jennifer Lopez's selfie is still pretty darn entertaining.
The bit where Eddie Redmayne gave the sweetest acceptance speech...
A lovably uncool and completely charming Eddie Redmayne warmed the hearts of everyone with his humble acceptance speech for Best Actor. And his shout-out to his new wife, Hannah, was just adorable. Congrats Eddie.
Celebrity news, beauty, fashion advice, and fascinating features, delivered straight to your inbox!