David Beckham At 40: The Birthday Boy In His Own Wise, Inspirational And Really Quite Hilarious Words
As David Beckham celebrates his 40th birthday we chart his funniest, sweetest and most inspiring quotes…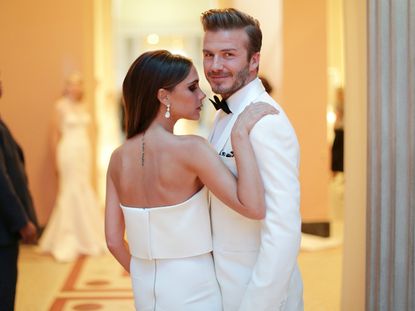 (Image credit: BFAnyc.com/REX Shutterstock)
As David Beckham celebrates his 40th birthday we chart his funniest, sweetest and most inspiring quotes…
In the beginning, David Beckham wasn't quite so good at this talking to the media lark. 'People don't think I've got the brains to be clever' - he once, um, confessed.
But with a savvy bit of PR training and a few tips from Victoria, Goldenballs has gone on to become our national treasure, the ultimate family guy, and our favourite ever man in tiny white pants (sorry David Gandy).
Here's 14 brilliant things he's actually said. For real.
David Beckham on his man trendiness…
'I like nice clothes, whether they're dodgy or not.'
On his hobbies since retirement…
'When you get older, you mature, and you start liking flowers.'
On his second career…
'I've become a taxi driver overnight with the kids. I'm literally an Uber driver.'
On pants…
'I've always tended to go for the tighter, smaller trunks. I don't know why.'
On big life moments…
'I remember so clearly us going into hospital so Victoria could have Brooklyn. I was eating a Lion bar at the time.'
On people who insulted his intelligence…
'Everyone's been so quick to say that I'm really thick or I haven't got a brain. People will think whatever they want to think.'
On religion…
'We're definitely going to get Brooklyn christened, but we don't know into which religion.'
On nights in with VB…
'We like to lock the doors at night and wander around naked.'
On his private life...
'My wife has that sort of thing that when we are on live TV, she likes to say certain things like me wearing her knickers.'
On values…
'I'm a strong person, I'm a strong family man, I'm a strong husband and a strong father.'
On drive…
'People react to criticism in different ways, and my way is definitely to come out fighting.'
On not playing league football again…
'I feel this pang of regret whenever I watch sport; this sense that I will never play a big match again.'
On his hair style transformation…
'I have come to accept that if I have a new haircut it is front page news.'
On body doubles…
'I can confirm that is my bum.'
Love these David Beckham quotes? See what Victoria Beckham's had to say for herself over the years...
Celebrity news, beauty, fashion advice, and fascinating features, delivered straight to your inbox!