The 11 best hair looks from this year's Crufts
Because you're worth it, Rufus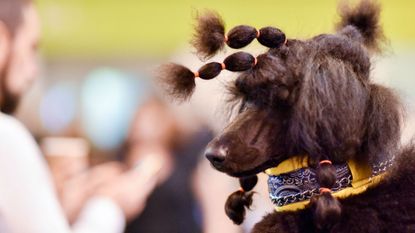 (Image credit: rex)
Because you're worth it, Rufus
A lot of the dogs competing at Crufts this year appeared to have undergone more grooming in a day than most of us do in an entire year. From spaniels with coats smoother than rippling satin to poodles with pom-pom ponytails, here are some of our favourite hair looks from Crufts 2017.
1. 'Whose leg do I have to hump to get a coffee around here?'
2. 'To be honest it's a total bitch to condition. Hahahahaha!'
3. 'Honestly, do you think we need more hairspray or is this OK?'
4. 'Barbara, I literally can't see a f**king thing'
5. 'Remember puddles? I miss puddles'
6.'I know you're not a natural blonde, Sasha-'
'Oh you do, do you?'
'-and I'll be notifying the judges'
7. 'Wait, are those my GHDs?!'
8. 'It's called fashion - look it up'
9. 'Oh man, is that a bacon sandwich? She's had me on this bullshit dry food diet for, like, six months.'
10. 'No, Robert, we did this together'
11. 'How's it looking, Sue, any split ends?'
Celebrity news, beauty, fashion advice, and fascinating features, delivered straight to your inbox!