We've just tested the 20 best foundation formulas for every skin type so you don't have to
Everything starts with a good base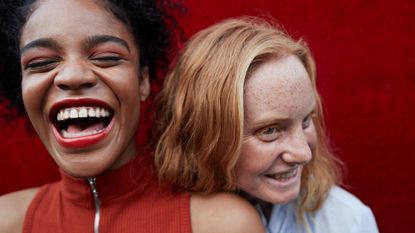 (Image credit: Getty Images/Klaus Vedfelt)
Finding the best foundation is the first step to perfecting your make-up routine. It's a simple enough principle, but boy, can it be tricky.
Applying it should be a pleasure and wearing it should be a joy. It should enhance the way your skin looks and feels, and it should disguise any bits that you want hidden, smooth out any imperfections and create the perfect canvas for the rest of your look. Iconic foundations like Estée Lauder Double Wear, L'Oréal Paris Infallible 24hr Matte Cover Foundation, and Armani Luminous Silk are classic choices because they do exactly that.
How to choose the best foundation for you
There are so many things to consider when looking for a new foundation. Firstly, the finish – do you want one that's glowy or matte, or somewhere in between? And then there's the coverage. Do you prefer a full-coverage formula or something that's on the sheer side?
And that's before we've even got on to your skin type. The best foundation for dry skin will be nourishing and dewy (shopping for the best eye cream can help reduce the chances of foundation settling in lines around the eyes), and be a hydrating water-based liquid formula. While targeted non-comedogenic formulas, with matte or demi-matte finishes, make the best foundation for oily skin (if your skin is acneic, be sure to shop our edit of the best foundation for acne-prone skin). If you're slightly greasy on the t-zone, but dry on your cheeks, you'll want the best foundation for combination skin. Or, if skin pigmentation is your biggest worry, then a buildable, full coverage foundation is essential.
We also recommend looking beyond just one foundation. Our skin changes throughout the year, as do our individual priorities, so consider buying two base products to keep in your kit. A richer formula in a lighter shade would probably suit you better in winter. Then come summer, when it's warmer and your skin tone has also got a little deeper, have a darker shade with a more lightweight texture on standby.
"Ultimately, the key things are the shade, undertone and the coverage you are looking for as well as the longevity, blendability and the way the texture feels and performs on the skin," says pro make-up artist Cher Webb. "Aim to find a base that enhances the skin and looks like it's not really there."
"When trying on bases I always recommend checking your shade across your lower cheek and jawline rather than swatching your wrists or hands," Webb adds. "Also always check your foundation swatches in natural daylight to identify the truest match."
How to make your foundation last all day
For a foundation that really goes the distance, we recommend applying some of the best primer before your base. Alternatively, there are some really brilliant make-up setting sprays out there that you would use as your very last step to really lock things in.
But if we can offer one piece of good advice it's that the key to really good make-up lies in having a brilliant skincare routine in place. If you want your foundation to look its best and last as long as possible, then applying it to a well-hydrated, healthy and smooth complexion is the way to do it. You wouldn't build a house without a good foundation, so the same rule applies here.
Regularly exfoliating your skin and getting rid of the build-up of dead cells will help stop your foundation from gathering around any flaky patches. Using the best face serums and toners for your skin type will ensure that your skin is in the best possible condition, and the foundation will glide on perfectly and stay there.
Foundation and SPF
Just because your foundation says it contains SPF, that doesn't mean you should be skipping your best facial sunscreen step. The amount in the foundation formula isn't enough and we definitely don't apply enough foundation to provide adequate protection. The recommended amount of sun cream for your face and neck is half a teaspoon, and you probably aren't trowelling that amount of foundation every single day. Plus, SPF only protects from UVB rays and not UVA – which is why your sun protection products should be 'broad spectrum'. (Just to recap, UVB rays burn the skin, UVA rays cause skin ageing, and both can cause skin cancer.)
Best foundation 2023:
We asked founder of VIEVE and expert make-up artist, Jamie Genevieve, what she believes makes the best foundation and she had this to say: "Shade range, staying power and buildability. Dependent on what kind of finish you want, a good foundation will be different for everyone – a person who likes a full coverage look will not be happy with a light coverage foundation. The finish and coverage of a foundation is dependent on the individual. However overall, everyone wants a good shade range so that they can find their right colour match, they want it to stay in place and last as long as possible and they want to have the control in building up the coverage where they want it without it separating."
Pro make-up artist Cher Webb thinks that it's also all about versatility. "I love foundations that work for every occasion from everyday wear, right through to full glam looks for an evening. I also select foundations that mimic real skin texture and amplify the skin's natural glow and radiance, rather than covering and masking everything."
As a beauty team, we have tested hundreds of foundations over the years. As soon as a new one drops we give it a trial. So how do we test? What are we looking for in the best foundation? First of all we want to know which skin type it's going to suit best. Next, we look at the formula, is it full-coverage, medium or more of a wash of colour? What finish does it have? Then, how does it last on the skin? Can it make it to the end of the day? We also look at the shade ranges, are all skin tones going to be able to find their match? And finally, we look at the price.
With all that in mind, let us help you find your next best foundation...
1. L'Oréal Paris Infallible Total Cover Foundation
L'Oréal Paris Infallible Total Cover Foundation
Best foundation for full coverage
Specifications
Number of shades: 20
Coverage: Medium to full
Formula: Liquid
Finish: Matte
Super full coverage with a gorgeous, slightly powdery finish, this bargain buy will help to blur visible pores, cover up any blemishes and even out your skin tone to perfection. And all that for just over a tenner! We do spoil you.
2. bareMinerals Original Loose Mineral Foundation
bareMinerals Original Loose Mineral Foundation
Best foundation for oily skin
Specifications
Number of shades: 30
Coverage: Medium
Formula: Powder
Finish: Matte
If you struggle with oiliness, combat shine with mattifying foundations that work to absorb excess oil. Powder foundations, like bareMinerals' Original formula, are a particularly effective choice. It may be worth looking for oil-free foundations so as not to exacerbate oiliness, but the key is a formula that's 'non-comedogenic', or non pore-clogging. This number is surprisingly glowy for a powder foundation and only has five ingredients, so it's a pretty clean formula.
3. Il Makiage Woke Up Like This: Foundation Makeup
Il Makiage Woke Up Like This: Foundation Makeup
Best foundation for all skin types
Specifications
Number of shades: 50
Coverage: Full
Formula: Liquid
Finish: Matte
Il Makiage has made shopping for a foundation online incredibly easy, thanks to its beyond-accurate shade matching tool. So precise it won't look like you are wearing anything on your skin. That's also because the formula has corrective powders inside that camouflage any bits that you don't want seen. "At first I was dubious about the online shade finding tool," says Senior Beauty Editor Katie Thomas. "But when it arrived, I genuinely couldn't believe how accurate it was. The formula is also so dreamy for my often dry skin."
4. L'Oréal Paris True Match Nude Plumping Tinted Serum
L'Oréal Paris True Match Nude Plumping Tinted Serum
Best affordable foundation
Specifications
Number of shades: 9 (but the brand claims that these nine match 99% of UK skin tones)
Coverage: Light
Formula: Liquid
Finish: Dewy
We love this foundation at Marie Claire. Our Senior Beauty Editor, Katie Thomas, uses this every day. If, like her, you have dry skin, but aren't after anything too rich you will love this. It's packed full of hydrating hyaluronic acid, but feels weightless on the skin.
5. Estée Lauder Double Wear Stay-In-Place Makeup
Estée Lauder Double Wear Stay-In-Place Makeup
Best foundation for full coverage
Specifications
Number of shades: 60
Coverage: Full
Formula: Liquid
Finish: Matte
A strong contender for the world's most famous formula, Estée Lauder's Double Wear is renowned for its excellent coverage and longevity, as well as offering a broad range of 60 shades. It's a fairly thick formula, but that's definitely not a bad thing – it doesn't feel heavy or go cakey on skin, and its staying power lasts for hours. "Full coverage foundations don't need to look heavy if used in the correct way with the appropriate brushes for a seamless application and always with a good skin prep to set the base up for success," says Cher Webb. "Estée Lauder Double Wear has a medium-full cover and lasts for 24hrs on the skin, it's pretty iconic!"
6. Fenty Beauty Pro Filt'r Soft Matte Longwear Foundation
Fenty Beauty Pro Filt'r Soft Matte Longwear Foundation
Best foundation for oily skin
Specifications
Number of shades: 50
Coverage: Medium
Formula: Liquid
Finish: Matte
Rhianna almost broke the internet when she released her eponymous make-up line – and boy, did it live up to the hype. You'll find many of the brilliant products in Team MC's make-up bags. The Pro Filt-r foundation spans an impressive range of 50 shades, with great options for darker skin tones, and its fluid formula with a soft matte finish caters to the foundation tastes of modern women everywhere. Ri-Ri, we take our hats off to you. "This blends so easily and dries beautifully matte," says Dionne Brighton, MC staffer. "I don't feel like I need to apply a powder on top, like I typically do with other liquid foundations. It's also so lightweight I actually forget I have it on."
7. Bobbi Brown Skin Foundation Stick