I never know what to do with my long hair, but since getting the 'concave cut' my daily styling routine has been so much easier
I'll never get 'just a trim' ever again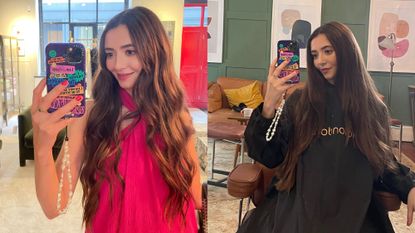 (Image credit: Dionne Brighton)
I promise this is not to brag, but I have exceptionally long, thick hair that I never know what to do with. As much as I lust over the bob hairstyle trend and have been particularly tempted by a lob, when I went for the chop a few years ago, I learned the hard way that my hair is way too thick to pull any short hairstyles off.
So every time I walk into the hairdresser, I'm stuck on what to ask for. I just want a style that is low fuss and manageable. While Birkin bangs appeal to me, I tend to just play it safe with a low-maintenance glow dry. I also don't trust a hairdresser's inch, so I typically ask for a little dusting or the tiniest trim. But when I heard about the concave cut, I became optimistic it could be the answer.
A few weeks ago, I had the pleasure of meeting celebrity hairstylist and founder of mdLondon, Michael Douglas. As usual, I asked for "whatever you think is best". I already trusted Douglas from scrolling through his Instagram. He's the man who's been working his magic on Davina McCall's hair for the past twenty years, so when he introduced me to the concave haircut, I started taking notes.
I was way past my six-week trim, and my hair had got to the length where pretty much everyone I interacted with commented on how long it had got. Douglas measured my hair for me pre-cut, and it was 76cm. You can't even imagine the number of split ends I'd encountered, but that's where the concave haircut saved the day.
What is a concave haircut?
"The concave cut is epic as it generally works for everyone and almost all lengths past mouth length," says Douglas.
It keeps all the length at the bottom and doesn't add short layers all over, which can turn out to be way too much volume for thick hair. It keeps all the length at the ends and becoming gradually shorter towards and around the face with concave layers.
What are the benefits of a concave layered haircut?
"It's great for long hair to give it some character, as it creates texture and shape around the face. It encourages movement (soft waves) if your hair has propensity for that," Douglas tells me. It is also "a great halfway house to having a fringe if you're nervous about getting one", Douglas explains.
The greatest benefit is the cut is so low maintenance, you don't need to constantly style it. It works whether you're adding in mermaid waves, poker-straight lengths or a bouncy blow. So if you're anything like myself and can't brave a dramatic new haircut but just need a change, a concave cut should have a top place on your new hair, new me inspiration board.
"It looks fab wavy or straight, you can use all the hair tools on it, and it's a cut/style that can be changed up through using different styling techniques. Altering the parting can change the style easily too, as you shift more hair from one side to the other," reveals Douglas.
My review of the concave cut
After years of only trimming my hair (hence becoming over 70cm), the concave haircut is one of the greatest cuts I've had in a very long time. I opted for angel wings a couple of years ago, which I'd only just finally grown out after not being able to style it or make it work for my length at all.
I took a leap of faith with the concave haircut, and I'm so relieved I did. At first, I was terrified it would be impossible to style, but since then, I've left my hair to dry naturally, straightened i, and had it curled by Douglas himself, and none of my fears manifested. There is no unmanageable volume or odd mix of length. It's pretty perfect, to be honest.
Although the immediate after photos definitely have everything to do with Douglas working his magic on the styling, I've never been happier with a haircut, and I'll only be getting my hair cut in a concave cut for the foreseeable.
The concave cut *literally* saved my strands from being riddled with split ends. Douglas explained that if minimising split ends is the goal, then a concave layering haircut is one of the best options. "It frames the face and, therefore, the ends will show, and you can keep on top of them by getting it cut regularly in that concave cut," he says.
My favourite products for concave hair
Celebrity news, beauty, fashion advice, and fascinating features, delivered straight to your inbox!
Dionne Brighton is a writer at Marie Claire UK, specialising in all things shopping, beauty and fashion. Born and raised in North London, she studied Literature at the University of East Anglia before taking the leap into journalism. These days, you can find her testing out the latest TikTok beauty trends or finding out what the next full Moon means.