Experts say this low-maintenance hair trend is set to be everywhere next season
The glow dry is an understated dream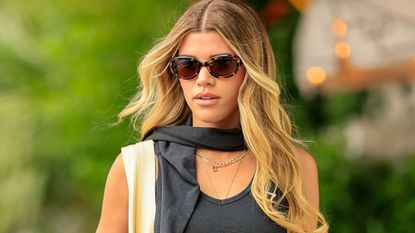 (Image credit: Getty Images 1258472708)
When celebrity hair stylists, Nicola Clarke & Zoe Irwin tell you anything about hair, you sit up and listen. Both are renowned in the world of hair and have done too many red-carpet hair looks to mention. They have a sixth sense for hair trends, so when the pair told us about a new low-fuss, low-effort hair look coming our way this season, we took notes.
Quiet luxury nails are a timeless winner, and now quiet luxury is making its way to our hair too—in the form of what Clarke and Irwin are dubbing the 'glow dry'. And it is everything we have been waiting for.
The glow dry is an effortless style, but not in a bedhead sort of way. The glow dry is polished but without looking like you've spent hours on your hair. It's the sort of red-carpet hair look we've only ever dreamed about achieving ourselves. So here's what you should know about what is set to be this season's biggest overarching hair trend.
What is the glow dry?
The glow dry is the hair equivalent of the perfectly polished beauty trends we're seeing everywhere right now. Think no-make-up make-up, which starts with glowing skin and a well-thought-out skincare routine. Think milky, barely-there nails where the beauty is all in the prep.
The glow dry is all about stripping your hair styling routine right back to basics and creating a look that is pared back, super shiny and actually lasts all day.
The key, apparently, to getting this look right is by first nailing the basics—and this all depends on what your hair needs. In the same way we apply highlighters only where we need them or powder only to our t-zone, we need to be asking ourselves what our hair really needs before we do anything.
Clarke and Irwin say it's about using certain products as and where they are needed—whether that's a serum just at the ends, a smoothing hair oil at the roots or a nourishing mask on the mid-lengths to ends.
The result? Understated, healthy hair.
How to achieve the glow dry look at home
It's summer, so we want our hair to glow—so enter the glow dry. Right now, our summer strands are dry, so the first step is hydration, hydration, hydration. We "want hair looking like it's super cared for", says Irwin.
Much like with skincare, glowing hair needs a healthy base, too. The experts tell us that a shampoo and conditioner that is right for your hair type are always worth the investment, and we agree.
"One of the key messages here is simplicity," says Irwin. You don't need hundreds of products, it's all about how and where you use them on the hair. The look should never be overstyled with heated tools, but instead left relatively natural, just with healthy and nourished strands.
When it comes to product, "it's all about precision placement," Irwin tells us. Place oil in sections to visibly dry areas only, some sort of smoothing product where flyaways are prevalent and, finally, a multi-purpose styling cream in the ends.
Here's how to do it...
1. Smoothing spray
Using some sort of smoothing spray before blow drying your hair will prevent any flyaways that highlight breakage. And this isn't to say that hair should be kept super-smooth and straight—in fact, it's far from it. Whether your hair has a natural wave, curl or coil, a smoothing spray or lotion will simply help to keep that pattern looking sleek and healthy.
Clarke & Irwin recommend:
Virtue Frizz Block Smoothing Spray
Lightweight, and gives you 72 hours of smooth hair with humidity blocking technology. Nourishing as well as smoothing, the experts explain this should be your first step as the technology is heat activated. Where you spray the product is important. "Put the brush under the hair and mist it on, pretty much saturating the hair. Don't just spray on; you want to brush through the hair, keeping the brush underneath to separate the hair and then mist the spray all over."
We also recommend:
Living Proof No Frizz Smooth Styling Cream
My wavy hair is practically impossible to keep smooth, but when I use this my hairstyle stays in place for longer (at least three days, which is a win). It conditions hair as well as creating a gorgeous shine. Apply to damp hair and brush through before blow drying.
2. Styling cream
"Understated luxury hair needs hold," the duo explain. Using a multi-purpose styling cream to areas where you really want your glow dry to hold is important if you want to be looking polished all day. Typically, this sort of product is most required in the mid-lengths and ends—whether your look is super straight, tousled or curly.
Clarke & Irwin Recommend:
This 6-in-1 styler nourishes as well as holding the hair while styling. You can apply by hand or with a brush, using precision placement again to brush through the product, likely in the ends where you want it to hold a curl or straight sleek strands.
We also recommend:
JVN Complete Blowout Styling Milk
It's lightweight and offers heat protection, this styling milk promises to hold styles up to 48 hours. It protects hair from humidity as well as hydrating and nourishing strands.
3. Treatment oil
The ultimate way to get that glow into your glow dry? Add ample nourishment in the form of a high-shine treatment oil. The experts explain that to achieve a pared-back glowy look, you want to run the oil through your strands very gently. Start by lightly pulling it through small sections between the forefinger and thumb. Alternatively, for something a little lighter, you can sprinkle a little bit of healing oil onto a brush, brush it through before bed and wake up with glowy hair. Remember to place it only where you think your hair needs it.
Clarke & Irwin recommend:
The Alpha Keratin 60 in this will *literally* repair any damage in your hair almost instantly. Remember to shake the bottle before you use it, to get all the alpha keratin magic in your strands.
We also recommend:
Bleach London Hair Elixir
This is a mix of oil and serum in one. I had a blow dry with this oil-serum hybrid last week, and I had the most compliments ever. It hydrates hair instantly and leaves strands super silky. My hair is very dry at the moment, so I put a few drops in my hands, rub them together and then drown my hair in it (only where it needs it, of course) every morning.
Celebrity news, beauty, fashion advice, and fascinating features, delivered straight to your inbox!
Dionne Brighton is a writer at Marie Claire UK, specialising in all things shopping, beauty and fashion. Born and raised in North London, she studied Literature at the University of East Anglia before taking the leap into journalism. These days, you can find her testing out the latest TikTok beauty trends or finding out what the next full Moon means.