As a Dyson devotee I put the Shark hairdryer and stylers to the test—here are my honest thoughts
Was this beauty editor converted?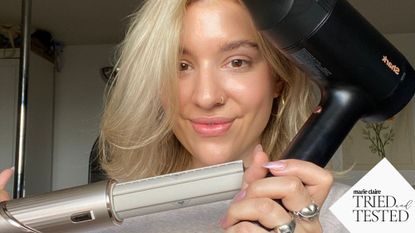 (Image credit: Rebecca Fearn)
I'll be honest: as a devoted Dyson girlie, I have always been a little sceptical about any hair tools dubbed as 'dupes' for the brand's bestselling designs. But I've heard (and read) so many good things about the Shark hairdryers - which often feature on best hairdryer lists - and styler. So I decided to give them a go and give my honest feedback.
Shark's tools use both heat and air to dry and style hair, meaning less damage for a healthier, glossier finish. Over the years, the Shark hairdryer range has grown to include classic dryers, 5-in-1 stylers (reminiscent of the Dyson AirWrap), and most recently, the Speedstyle which is almost like an amalgamation of the two.
The Speedstyle dries and styles in one go, offering multiple attachments for different results and hair types. Whether you have fine, bob length hair like I do, or gorgeous thick curls, Shark promises the it will work for you.
Eager to put a Shark hairdryer to the test, I put the latest iteration to work, along with the brand's other two iconic launches: the Flexstyle and the Style iQ.
Shark SpeedStyle 5-in-1 Hair Dryer review
Shark SpeedStyle 5-in-1 Hair Dryer
Reasons to buy
+
Compact and light
+
High heats and good airflow
+
Protects hair health
Reasons to avoid
-
Attachments can be hard to use on shorter hair
-
Doesn't come with Wide Tooth Comb attachment
One of Shark's newest innovations, I was most looking forward to trying this. Its point of difference from the brand's OG hairdryer (more on that later), is that it's ultra-powerful and yet very lightweight. It has more attachments, which you can easily store away in the storage bag that comes with it.
My first impressions of this were great; it's so compact and light, meaning that if it normally takes you a while to dry your hair, you will never experience that dreaded arm ache.
The styler gets very hot and has good airflow, making drying a total breeze (all the puns intended). As somebody with fairly fine hair, it doesn't usually take me a long time to dry my whole head, but I could see this totally revolutionising the dry times for those with longer and thicker hair.
Attachments-wise, I have mixed thoughts on the five available. On the positive, I *love* the RapidGloss Finishing Tool, which IMO is much more effective than Dyson's Coanda version, and easier to use too.
I did however find some of the heads a little difficult to use, particularly because I have short hair. Getting them up under the root proved a little difficult, but I think that's because I'm more used to the straight wand design of my Dyson, rather than this angled styler.
In addition, if you have curly and coily hair, the SpeedStyle doesn't come with a with the Wide Tooth Comb attachment - you would have to buy that separately.
Overall, I think this is a brilliant styler if you're in the market for something between a classic hairdryer and a new-gen Airwrap-style design. It's great for travel due to its size, has a good variety of attachments for all hair types, and works quickly.
Shark SpeedStyle 5-in-1 Hair Dryer Before & After
Shark STYLE iQ Ionic Hair Dryer & Styler HD120UK review
Shark STYLE iQ Ionic Hair Dryer & Styler HD120UK
Reasons to buy
+
Dries hair super quickly
+
Less heat damage
Reasons to avoid
-
Some attachments hard to use on shorter hair
-
Finish not as glossy as other designs
If you're looking for more of a classic dryer, this is the Shark hairdryer for you. This model comes with three attachments: a Style Brush, Concentrator and Diffuser, meaning you that simple styles are easily achieved. However, you may have to use additional heat afterwards in the form of the best hair straighteners or best curling wands.
I really rate the power and heat achieved by this hairdryer; it's definitely one of the better ones I have used. It dried my hair so quickly, I had dried my hair in less than five minutes. For this reason, I would highly recommend it.
In terms of the attachments, I found the Style Brush a little hard to use because of (once again!) angles, but I doubt this would be as much of an issue if you have longer hair. I like the Concentrator as it has two options for super concentrated bursts of air, making the result smoother with less flyaways. If shine is what you're after, then you may be disapointed as the finish was noticeably less glossy that the other two stylers.
I would argue that paying £200 for a classic hairdryer doesn't really seem like the best value for money, when the alternative stylers offer both. But it totally depends on what you're looking for.
If this came with more attachments, it would be a little more versatile and perhaps worth the spend more.
Top line: A 'dry and style' hairdryer with rapid air power, for drying with no heat damage.
Shark STYLE iQ Ionic Hair Dryer & Styler HD120UK Before & After
Shark FlexStyle 5-in-1 Air Styler & Hair Dryer review
Shark FlexStyle 5-in-1 Air Styler & Hair Dryer
Reasons to buy
+
A great Dyson AirWrap dupe
+
Dries, curls and styles in one go
+
Grips onto hair well
Reasons to avoid
-
Effects aren't super long-lasting (hair drops)
-
Not enough attachments for shorter hair
-
Have to swap heads for different airflow directions
As a devout Dyson AirWrap user, a rival model was always going to be a tough sell for me, but I was pleasantly surprised by this one. There are a lot of similarities to the pricier Airwrap.
Unlike the other Shark stylers, I found this one much easier to use on my short hair due to the wand-like straight design. It comes with five attachments, however my hair would have benefitted from a slightly smaller brush head.
This styler is ideal for creating different looks if you have long or thick hair, but there's not much in there styling-wise if you have a bob or a shorter crop.
That said, the Concentrator attachment worked wonders to dry my hair quickly, and at around 80% dry, I brought out the Auto-Wrap Curlers (for the real Dyson comparison).
I think these grip hair a bit better than Dyson's, and even work faster to curl the hair. Like Dyson's, the results do drop fairly quickly, so hair spray is essential for use in conjunction.
Unlike Dyson's, you can't simply switch between airflow directions in a single head, meaning you have to swap attachments for the other side of your head. This can feel clunky, especially if like me, you dry your hair in three parts bottom to top, rather than one side to the other. It's a small inconvenience though, and one I'm sure most people could get over.
I think for its price, this is a really great Dyson Airwrap alternative and is worth it for easy drying and styling in one, with less heat damage than your typical heated tools.
Shark FlexStyle 5-in-1 Air Styler & Hair Dryer Before & After
Celebrity news, beauty, fashion advice, and fascinating features, delivered straight to your inbox!
Rebecca is a freelance beauty journalist and contributor to Marie Claire. She has written for titles including Refinery29, The Independent, Grazia, Coveteur, Dazed, Stylist, and Glamour. She is also a brand consultant and has worked with the likes of The Inkey List on campaign messaging and branded copy. She's obsessed with skincare, nail art and fragrance, and outside of beauty, Rebecca likes to travel, watch true crime docs, pet sausage dogs and drink coffee. Rebecca is also passionate about American politics and mental health awareness.