Are Kate and William gearing up for a royal tour of Australia with their children?
One royal expert certainly thinks so.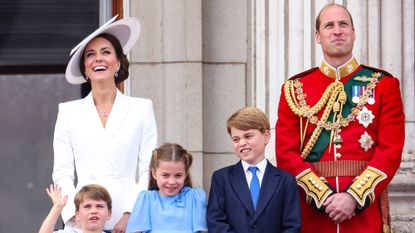 One royal expert certainly thinks so.
It's a been a busy old time for the Cambridges, what with the Queen's Platinum Jubilee celebrations last month, but it doesn't look like their packed schedules are slowing down anytime soon.
The Duke and the Duchess of Cambridge are central to the 'slimmed down' visions of the monarchy that are often talked about. Their children, Prince George, Princess Charlotte and Prince Louis are also slowly being introduced in to royal life and public engagements.
Now, one royal expert has visions far greater than the Buckingham Palace balcony appearance or a day trip to Wales for the Cambridge children. According to Russell Myers, the Daily Mirror's royal editor, they could soon be heading Down Under.
"I definitely think we will see a tour of Australia early next year. And they've got to take the children," said Myers, speaking on the a recent episode of the Daily Mirror's podcast, Pod Save The Queen.
He went on to say that a growing republican sentiment would mean the royals would be looking at a trip to Australia sooner rather than later. Myers added:
"They [the Cambridges] didn't go during the Platinum Jubilee year and there's definitely a republican sentiment growing in Australia; they've just appointed a junior minister for the republic. I think this is something that the Cambridges will need to do."
He went on to speculate that the next Easter holidays may be a good time for the family of five to make the trip.
A 1999 referendum on whether the Queen should be replaced as head of state by a president, saw all six Australian states vote against the proposal. But the new Australian prime minister, Anthony Albanese, is said to have long supported the Republican movement. According to the Express newspaper, in 2018 he also called for a national vote on Australia becoming a Republic.
Last year Barbados became the first country in nearly 30 years to drop the British monarchy. There are also a number of Commonwealth countries - such as the Caribbean nations - who have expressed a desire to sever ties with the monarchy.
Kate and William's recent tour of Jamaica, Belize and the Bahamas also received a very mixed response.
According to the Financial Times though, in Australia, a recent poll actually put support for a republic amongst Australians at the lowest level since 1979.
When Kate and William visited the country back in 2014 with a very young Prince George, the tiny royal was dubbed the 'republican slayer' by many media outlets.
Whether or not the Duke and Duchess of Cambridge, plus their young brood, get on a plane to Australia is yet to be seen. We'll keep you updated as any news comes in.
Celebrity news, beauty, fashion advice, and fascinating features, delivered straight to your inbox!
Amy Sedghi is a freelance journalist, specialising in health and fitness, travel, beauty, sustainability and cycling.
Having started her career in The Guardian newsroom working with an award-winning team, Amy's proud to have reported on a variety of topics, speaking to a range of voices and travelling far and wide to do so. From interviews on ski lifts to writing up breaking stories outside courtrooms, Amy is used to reporting from a range of locations (she's even been known to type up a story in a tent).
She also loves being active, spending time outdoors and travelling - with some of her favourite features she's worked on combining all three. Cycling and eating her way round the Isle of Man, learning to sail on the Côte d'Azur and traversing the Caminito del Rey path in Spain are just some of her highlights.
Covering a diverse range of subjects appeals to Amy. One minute she may be writing about her online styling session with Katie Holmes' stylist and the next she's transporting readers to the basketball courts of Haringey where she joined a group trying to lower knife crime in the capital.
While at university, Amy was awarded The Media Society bursary. Following her stint at the Guardian, Amy worked at Google and as well as writing for Marie Claire, she regularly contributes interviews, features and articles to National Geographic Traveller, The Guardian, The Independent, The Telegraph, Stylist, Refinery29, Glorious Sport, Cycling Weekly and Rouleur.
When she's not writing, Amy can be found trying to get through her towering stack of books-to-read, cycling down at Herne Hill Velodrome or looking for the next place to eat and drink with friends.