Prince George, Princess Charlotte and Prince Louis are reported to have a starring role in the celebrations this weekend
The royal siblings will be celebrating their great-grandmother's Platinum Jubilee in style.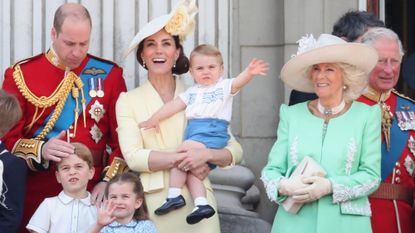 The royal siblings will be celebrating their great-grandmother's Platinum Jubilee in style.
A four-day weekend, to celebrate Queen Elizabeth's Platinum Jubilee, is fast approaching and there are a whole host of royal events planned.
One that is sure to get royal fans excited, is seeing the Duke and Duchess of Cambridge's three children during Thursday's Trooping the Colour.
Prince George, Princess Charlotte and Prince Louis, who have all appeared on the Buckingham Palace balcony during previous versions of the event, are set to take on a more starring role this year. Hello! Magazine reports that the trio will be joining their mum, the Duchess of Cambridge in the carriage procession.
During the ceremony, Prince William usually rides on horseback, while Kate shares a carriage with the Duchess of Cornwall, but this year, we might very well be spotting her alongside her children: eight-year old Prince George, seven-year-old Princess Charlotte and four-year-old Prince Louis.
In 2019, Prince Louis made his first appearance at Trooping the Colour by joining his family on the Buckingham Palace balcony to watch the flypast by the Royal Air Force.
A ceremony performed by regiments of the British Army, Trooping the Colour marks the official birthday of the British Sovereign and has done so for more than 260 years.
The event sees 1,400 parading soldiers, 200 horses and 400 musicians in a display of fanfare to mark The Queen's official birthday.
The 95-year-old monarch, who is celebrating 70 years on the throne this weekend, will arrive at Horse Guard's Parade in Whitehall by carriage. In her younger years, the Queen used to ride in on horseback.
Once the Queen arrives at Horse Guard's Parade, there is a Royal salute and the monarch carries out an inspection of the troops. There's a whole number of highly regimented steps that then take place, culminating in Her Majesty being joined by other members of the royal family on the balcony at Buckingham Palace to watch the RAF flypast. A 41-gun salute is also fired in Green Park to mark the event.
It's certainly going to be a busy weekend for the royal youngsters; The Telegraph reports that the Cambridge children will also be joining the Duchess of Cambridge at the Tower of London moat for the Superbloom flower show.
Celebrity news, beauty, fashion advice, and fascinating features, delivered straight to your inbox!
Amy Sedghi is a freelance journalist, specialising in health and fitness, travel, beauty, sustainability and cycling.
Having started her career in The Guardian newsroom working with an award-winning team, Amy's proud to have reported on a variety of topics, speaking to a range of voices and travelling far and wide to do so. From interviews on ski lifts to writing up breaking stories outside courtrooms, Amy is used to reporting from a range of locations (she's even been known to type up a story in a tent).
She also loves being active, spending time outdoors and travelling - with some of her favourite features she's worked on combining all three. Cycling and eating her way round the Isle of Man, learning to sail on the Côte d'Azur and traversing the Caminito del Rey path in Spain are just some of her highlights.
Covering a diverse range of subjects appeals to Amy. One minute she may be writing about her online styling session with Katie Holmes' stylist and the next she's transporting readers to the basketball courts of Haringey where she joined a group trying to lower knife crime in the capital.
While at university, Amy was awarded The Media Society bursary. Following her stint at the Guardian, Amy worked at Google and as well as writing for Marie Claire, she regularly contributes interviews, features and articles to National Geographic Traveller, The Guardian, The Independent, The Telegraph, Stylist, Refinery29, Glorious Sport, Cycling Weekly and Rouleur.
When she's not writing, Amy can be found trying to get through her towering stack of books-to-read, cycling down at Herne Hill Velodrome or looking for the next place to eat and drink with friends.