Karl Lagerfeld Reveals His Surprising Secret Talent…
In coversation with Karl Lagerfeld: Jessica Chastain puts her questions to the outspoken Chanel designer.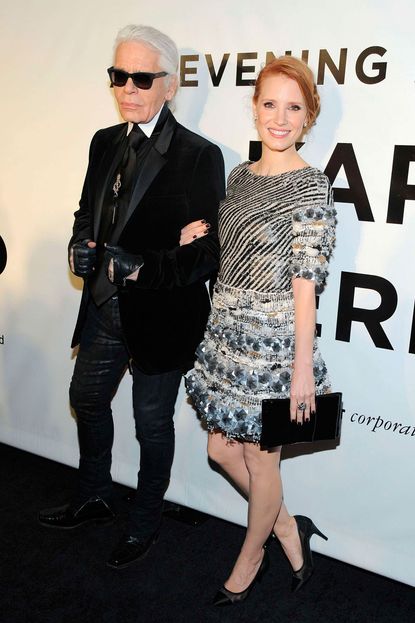 In coversation with Karl Lagerfeld: Jessica Chastain puts her questions to the outspoken Chanel designer.
Karl Lagerfeld looked as cool as a cucumber in New York this week as he sat down with Jessica Chastain for a live Q&A session.
Encouraging the Hollywood starlet to abandon her pre-planned questions and wing it in front of the fashion pack, Jessica set about revealing a new side to the legendary fashion figure.
And that she did, with one particular revelation set to shock the fans.
Amongst the talk of red carpets, photoshop and his beloved cat, Choupette, Chanel's creative director revealed a surprising secret past.
Talking about the slow pace of the fashion industry throughout the last '50s and early '60s, he said: 'I was bored to death - nice cars and lots of holidays. I went out at night and danced a lot. I was a ballroom dancing champion and things.'
Not just a ballroom dancer, ladies and gents, a champion of all things.
Continuing to talk about his time as art director at French couturier, Jen Patou, where he worked for five years, Karl explained: 'I was tired of being an assistant; I wasn't born to be an assistant. If you are an assistant endlessly there is no hope.'
Discussing more about his work behind-the-scenes, he continued: 'Lots of designers these days don't sketch anymore.
'They have studios [or] do it with a computer. I do everything myself because I like physically the work of sketching.
Now designing three collections a season, across Chanel, Fendi and Karl Lagerfeld, he said: 'I'm very happy that I have a French version and an Italian version, and then I have my own company.'
But the outspoken designer confessed: 'I'm not obsessed by my own name – I couldn't care less. What I like is a job. The ego trip comes later, and who cares?'
Also sharing his thoughts on other areas of the fashion industry, Karl opened up about his approach to red carpet events and using photoshop.
He said: 'Fashion is something else than the red carpet, but the red carpet is a part of our world, our fashion world… It [can be] a little too much sometimes.'
'[We are] easily in a period of over-retouching. Some models [end up] looking as if they are coming out of a funeral parlor, all life taken out of the face, I hate that.'
What do you think of Karl Lagerfeld's ballroom past? Let us know in the comments box below...
Got a tablet? You can now download Marie Claire magazine straight to your iPad, Kindle (just search the store for 'marie claire magazine'), Nook or Google Nexus.
Celebrity news, beauty, fashion advice, and fascinating features, delivered straight to your inbox!