5 must-see moments from Chanel's AW16 couture show
Oh that clever Karl Lagerfeld.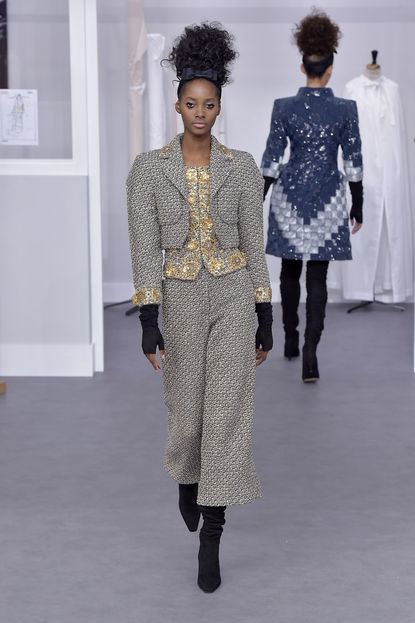 (Image credit: WWD/REX/Shutterstock)
Oh that clever Karl Lagerfeld.
Oh that clever Karl Lagerfeld. His theatrical Chanel show sets are as anticipated as the clothes themselves and, just when you think you can predict what his next trick might be, he throws another curveball into the game. Cue this morning's AW16 couture set, a beautiful tribute to Chanel's own atelier and its staff, the people who work with such precision to bring Karl's visions to life. Here's what you need to know…
The set was a replica of Chanel's couture atelier So it's pretty rare for a designer to throw focus onto the team that props them up (usually seamstresses are found squirrelling away backstage) but today Karl Lagerfeld put his atelier front and centre on the catwalk stage. He recreated a scene from his haute HQ, complete with a team of couturiers sat hand-stitching garments in the middle of the Grand Palais show space.
Models paraded through the studio …And yet Karl's team didn't bat an eyelid, their focus sticking to their exact needlework even when supermodels like Edie Campbell powered by. With Chanel kit bags around their necks, the team took their bow with Karl at the end of the show. Isn't it nice to meet the faces behind the craftsmanship?
The collection was finished in front of us The first half of the show was an ode to boxy nipped jackets in the house's iconic tweeds, their hem lengths escalating into stiff tunics before giving way to the wow dresses as the collection progressed. Some models were dressed in front of the audience, others were being sewn into cotton toiles, and others were just having the final touches added to their embellishments. It was a stunning reminder of how beautiful the manufacturing process is, in an era dominated by fast fashion.
The stars loved it, naturally Chanel ambassador Willow Smith watched with her actor dad Will Smith, while Jessica Chastain wore her best tweed jacket as she took it all in from the front row.
The bride wore pink Brit model Edie Campbell was the chosen one to play today's Chanel bride, modelling a showstopper of a wedding ensemble, complete with a feather-trimmed cape. In the past, the Chanel bride has made big statements (she's worn a tux, been heavily pregnant, worn a minidress… Karl is with the times, you know?) and today's twist was that the bride wore baby pink down the 'aisle'. Could this bridalwear trend be coming soon to a wedding near you?
Celebrity news, beauty, fashion advice, and fascinating features, delivered straight to your inbox!