WATCH! Go behind the scenes with Lea Michele on our exclusive MC cover shoot
See lovely Lea in action as she smoulders for the cameras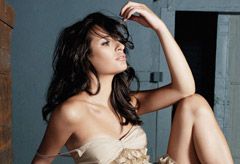 See lovely Lea in action as she smoulders for the cameras
Gleeks, listen up! She's our superstar November cover girl who bared her soul and revealed all her meteoric rise to Glee fame. Now we've got our hands on an exclusive, behind the scenes sneek peek of our day with Lea Michele.
SEE ALL THE GORGEOUS SHOOT PICS HERE!
Funny, uplifting and sing-along fabulous, it's the TV show everyone is talking about. And as someone on our LA shoot pointed out, if Glee is the new friends, then Lea Michele is the new Jennifer Aniston.
But don't think she's let her newfound celebrity status go to her head.
The charismatic star entertained the Marie Claire team as she was primped and preened for her cover star close up, and had the hair and beauty team dissolving into fits of giggles.
Celebrity hairstylist Mark Townsend, who's worked with the likes of Natalie Portman and Reese Witherspoon, formed an instant bond with our bubbly cover girl.
'She had me laughing from the moment I turned on my blow-dryer,' he says. 'Even when the power failed and we had to use outside generators for my curling irons!'
WATCH Lea in action on the MC cover shoot below…
Read the full interview with Lea Michele in Marie Claire's November issue, on newsstands now.
SEE ALL THE GORGEOUS SHOOT PICS HERE!
LEA MICHELE STYLE HIGHS AND LOWS
Celebrity news, beauty, fashion advice, and fascinating features, delivered straight to your inbox!