Twilight star attacked by drunken gang
Bronson Pelletier - who plays werewolf Jarrod in the saga series – was viciously set upon at an event in Birmingham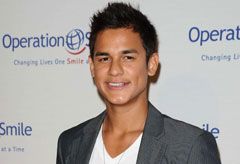 (Image credit: Rex Features)
Bronson Pelletier - who plays werewolf Jarrod in the saga series – was viciously set upon at an event in Birmingham
Twilight star Bronson Pelletier - who plays werewolf Jared in the saga series – was viciously attacked last week, after a drunken gang crashed a fan event being held in Birmingham.
SEE ALL THE LATEST BREAKING DAWN PICS HERE!
It's thought the burly star was set upon in a hotel bathroom - after attending the city's sold-out fan event - by five drunken men who stumbled in from a wedding next door.
Security was at the scene almost immediately, and the attackers were dramatically chased down by police, who were forced to use Taser guns to restrain the rowdy group.
Now Bronson has spoken out about the scary incident, reassuring fans he was completely unharmed.
'These five drunken hooligans followed me into a restroom,' he told US site Radaronline. 'They did it because they wanted to jump somebody who was in Twilight.
'Two of the guys tried to choke me. I pushed back and threw them off me.'
'I didn't let them get near the face,' he joked. 'The moneymaker was not touched!'
Insiders confirmed security was tight, but revealed they hadn't anticipated any problems at the event.
'The convention was full of teenage girls and geeks desperate to see their Twilight heroes so no one expected this sort of trouble.'
Celebrity news, beauty, fashion advice, and fascinating features, delivered straight to your inbox!