SEE PICS: Desperate Housewives turn Amazon warriors for new season
Desperate Housewives turn warriors for explosive sixth season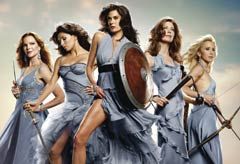 Desperate Housewives turn warriors for explosive sixth season
The Desperate Housewives ladies have had another makeover to promote the sixth season of the hit show and this time the Wysteria Lane gang take on an Amazonian warrior guise, dressed in fabulous grey silk gowns, while touting shields, swords and bows and arrows. The feisty quintet look poised for battle atop a pile of red apples of temptation, as their characters take on a fresh set of trials and tribulations.
The new season's sizzling tagline states: 'Never underestimate a housewife', prompting speculation that the forthcoming season could be the most heated yet.
But after seeing affairs, murder and societal scandal, what more can the Wives come up against?
As usual we were left on the ultimate cliffhanger at the end of the last series, wondering who married Mike at the alter and how Lynette would cope with the news of her unplanned pregnancy.
Thanks to those kind TV bosses over at U.S. network ABC, we've been given a hint as to what we can expect from the explosive new series.
At a press conference in May, the show producers revealed: 'Susan and Mike are brought together by their worst fears; Lynette's unexpected pregnancy tests her family; as Bree's marriage dissolves, she finds herself in the arms of another man; Gabrielle is in for a surprise when she and Carlos welcome their niece, Ana, into their home; and Katherine struggles over the thought of losing Mike.'
The suspense is killing us! Roll on the new season.
Celebrity news, beauty, fashion advice, and fascinating features, delivered straight to your inbox!