Scarlett Johansson opens up about marriage to Ryan Reynolds
Scarlett Johansson dubbed her three-year marriage to Ryan Reynolds 'incredibly romantic'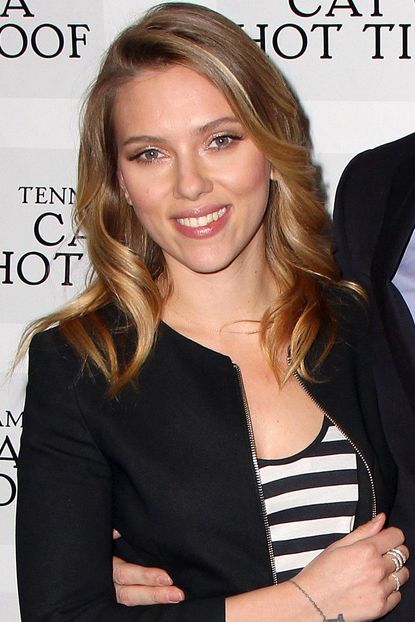 (Image credit: Rex)
Scarlett Johansson dubbed her three-year marriage to Ryan Reynolds 'incredibly romantic'
Scarlett Johansson's ex husband, Ryan Reynolds, may be enjoying the honeymoon period with new wife Blake Lively but that hasn't prevented Scarlett from speaking about her marriage to the Canadian actor.
While the stunning star usually stays schtum about her previous relationship, she broke with tradition and opened up to the Metro about her time with Ryan Reynolds, saying: 'I got married when I was young and it was incredibly romantic and I liked being married, actually.'
Such news makes it all the more sad that the pair split in 2011, but Scarlett was keen to stress how tying the knot can change things, adding: 'But it [marriage] is different. It's hard to put into words.'
SCARLETT JOHANSSON'S HACKER JAILED FOR 10 YEARS
Despite the heartache of her first marriage failing, Scarlett is now reportedly loved-up with French journalist, Romain Dauric, but has revealed she'll think twice before walking down the aisle again.
Scarlett shared her thoughts on being husband and wife saying: 'To me, being in a functioning relationship doesn't mean you have to be married. I never think about marriage. Is that weird? The only time I ever think about it is when people ask me.'
And when it came to the all-important question, would she marry again, Scarlett's answer was pretty clear: 'Would I get married again?' It's really not important to me. It has no relevance to me right now.
'I'm not having kids any time soon, I'm in a nice relationship, I'm working a lot and, like I said, it's not important to me.'
And at 28, Scarlett has all the time in the world!
What do you make of Scarlett Johansson's comments? Do you agree with her, does marriage make your relationship different? Let us know below.
WATCH! Scarlett Johansson at the Hitchcock premiere:
SCARLETT JOHANSSON'S STYLE HIGHS AND LOWS
RYAN REYNOLDS PLAYS PERFECT GENT NEXT TO EMMA STONE
RYAN REYNOLDS ADORABLE WEDDING VOWS REVEALED
Celebrity news, beauty, fashion advice, and fascinating features, delivered straight to your inbox!