Rihanna suffered 'horrific' injuries in alleged Chris Brown assault
Rihanna's injuries more serious than first thought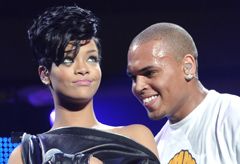 (Image credit: Rex Features)
Rihanna's injuries more serious than first thought
Rihanna suffered 'horrific' injuries in the alleged assault by her boyfriend Chris Brown, according to US reports.
CLICK HERE FOR GRAMMY RED CARPET PHOTOS
The singer apparently sustained trauma to her face and body, including major contusions to both sides of her face, a split lip, swelling, bruising and a bloody nose.
Reports have also stated that the police took photos at the scene, which show Rihanna with bite marks on her arms and on several fingers.
An onlooker called the police on Saturday night, hours before Rihanna and Chris Brown were due to attend the Grammys, after witnessing loud, violent confrontation in the Hancock Park area of LA, according to the LA Times.
Rihanna sought treatment for her injuries at the Cedars-Sinai hospital.
'Rihanna was clearly very upset by what had happened and I could hear her screaming,' an eyewitness told website radaronline.com.
'Rihanna was trying to get her point across about something, she sounded like she was crying as she tried to get her point across.'
Brown has previously spoken of the 'terror' he experienced when he was forced to witness his mum suffer domestic violence at the hands of his stepfather.
'He made me terrified all the time, terrified like I had to pee on myself,' Brown told Giant magazine.
I remember one night he made her nose bleed. I was crying and thinking, 'I'm just gonna go crazy on him one day...' I hate him to this day.'
The R&B pair are rumoured to have been in a relationship since the end of 2007 but seem to have hit a rocky patch over the last few weeks.
'They've been fighting a lot lately,' a source told People. 'Lots of ups and downs. One second they're all lovey dovey and then they're fighting like crazy. They're both pretty stubborn.'
Brown's spokesperson is yet to comment on the situation, whilst Rihanna's publicist said in a statement that her client was 'well' and thanked fans for their 'concern and support.'
Celebrity news, beauty, fashion advice, and fascinating features, delivered straight to your inbox!