Marie Claire is supported by its audience. When you purchase through links on our site, we may earn commission on some of the items you choose to buy.
The pair tell all on the final Twilight instalment's racier moments, and Rob reveals there's one scene in particular he's looking forward to
Robert Pattinson and Kristen Stewart have opened up on Breaking Dawn's steamier scenes, with R-Patz revealing all on the part he's looking forward to the most.
ROBERT AND KRISTEN: RELATIONSHIP IN PICS
The stars are getting set to start work on the final Twilight instalment – which starts filming this October – and already they've been able to sneak a peek at the script.
And now Kristen has been chatting about the movie's racier moments, promising bosses will stick to the script as the scenes heat up.
'It does actually literally get more physical [in Breaking Dawn],' she revealed to Access Hollywood of the couple's sex scenes.
'It doesn't get more action-packed … [But] they definitely get more physical. Well, they get married.
'They're man and wife now. They have a kid and stuff too, so, I guess to get there that happens,' she adds.
'We totally have sex – finally!'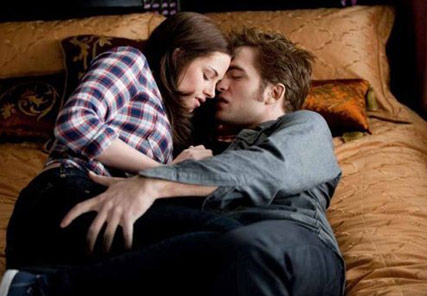 And R-Patz revealed there's one scene in particular he's looking forward to filming in the brand new flick.
'I'm looking forward to the pillow-biting scene,' he joked. 'I thought that was so funny. Of all the random things too do, really? He bites the pillow.'
'I can't wait to get all my body makeup on,' he said, adding he's looking forward to being 'especially pasty looking.'
Are you looking forward to Breaking Dawn? Or do you think it will be hard for directors to stick to the story? Let us know in the comments box below.
ROBERT AND KRISTEN: RELATIONSHIP IN PICS