The kids from Outnumbered are now all grown up (& the Internet can't cope)
Age will do that to you...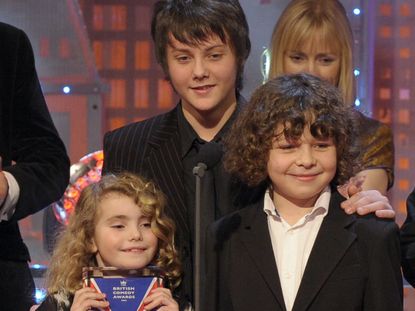 (Image credit: Rex)
Age will do that to you...
Amongst other things, the noughties will be remembered as a time when everyone was literally obsessed with age. Phrases like 'you're how old?' and, 'that would have never happened at my age' and, 'Clueless is 21 years old this year...?!' are heard on a daily basis (yes, we really can't get over the last one. Sorry, we digress, blame our age).
Now, in a tweet that is surely in line to make 2016's most memorable Twitter moments round up, is the picture of the now grown-up Outnumbered cast that has been doing the rounds on the internet today. In fact, 'doing the rounds' is to do the picture of the Outnumbered kids (pah, kids!) a huge disservice, as the tweet, which was posted on the evening of July 24th, has gone seriously viral. And Twitter just can't cope.
The image, which shows (L-R) Ramona Maquez,15, who played Karen, Daniel Roche, 16, who played Ben and Tyger Drew-Honey, 20, who played Jake, the eldest sibling, reunited and has elicited a very strong reaction from the internet.
Age never looked so good...
http://storify.com/marieclaireuk/outnumbered-kids
Celebrity news, beauty, fashion advice, and fascinating features, delivered straight to your inbox!
Holly Rains is the digital editor of Marie Claire UK. She has over 10 years journalism experience, working as an editor and writer, specialising in digital media, content strategy and dog breeds. Prior to Marie Claire, she has held senior staff positions at ELLE UK, Grazia and Company magazine.
Holly is a frequent speaker, panelist and interviewer on a range of subjects including media trends, careers and entertainment. From working with Reuters to provide global red carpet coverage for events like the BAFTAs, to discussing fashion and beauty trends on network TV, she was also the host of the Marie Claire series 'Holly's First Dates', where she regularly interviewed a mix of inspiring woman and A-list celebrities (including Jack Black, Dakota Fanning and Renée Zellweger) - a series which garnered half a million views in its first two months. And was approved by The Rock.
Her love of office-based meetings means that the days of discovering the melting point of Cadbury's Flakes are long gone, but when she isn't dreaming of scheduling in meetings, she likes to think about social media, and how best to avoid it whilst still retaining the title of 'digital' editor. She also likes learning about emerging technology, Influencers and how to become a Financially Responsible Adult.
Contact Holly: holly.rains@futurenet.com