Leona: Rihanna assault not my fault
Leona Lewis denies flirting with Chris Brown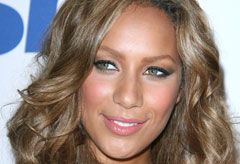 Leona Lewis denies flirting with Chris Brown
Leona Lewis has denied reports that her flirting with Chris Brown triggered his alleged row with Rihanna.
The argument, which caused Chris Brown to allegedly attack Rihanna, was sparked by a conversation he had with the Bleeding Love singer, it was reported.
A source yesterday claimed that Leona and Brown had been chatting at a pre-Grammy award party on Saturday night.
'Rihanna saw Chris flirting. He and Leona were laughing and Rihanna saw his hand on the small of her back,' the source told the Daily Mirror.
'It was totally innocent but it set Rihanna off.'
The unnamed source added, 'Leona is very happy with her boyfriend Lou (Al Chamaa) and it was totally innocent on her behalf. There was no flirting.'
Now Leona's spokeswoman has spoken out, and confirmed, 'This has nothing to do with Leona.'
With no word from either Rihanna or Brown's camp as yet, reports of the disturbing nature of the attack are spiralling.
It was reported yesterday that Brown threatened to kill Rihanna during the argument, with police sources claiming that the Umbrella singer lost consciousness as Brown choked her and screamed: 'I'm going to kill you!'
Since the alleged attack there has been no sign of Rihanna, although she has cancelled several tour dates and her lavish 21st birthday party, which was due to take place in New York next week.
Brown, who is out on $50,000 (£34,000) bail, has also pulled out of a charity basketball event in Phoenix on Sunday.
FOR ALL THE GRAMMY PHOTOS CLICK HERE
Celebrity news, beauty, fashion advice, and fascinating features, delivered straight to your inbox!