Gisele offends husband's teammates by blaming them for Super Bowl defeat
The supermodel was caught on camera swearing at hecklers who made fun of Tom Brady's performance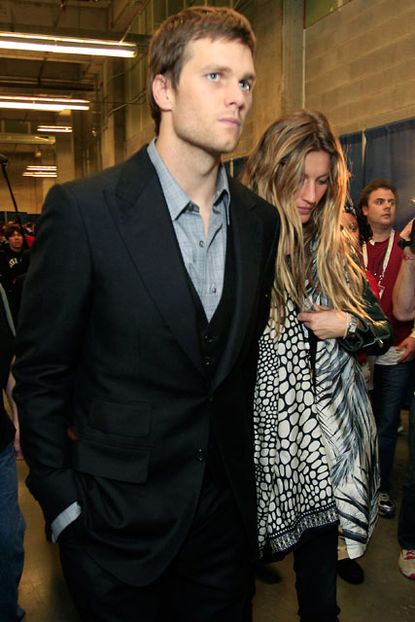 (Image credit: PA)
The supermodel was caught on camera swearing at hecklers who made fun of Tom Brady's performance
Gisele Bündchen has been caught on camera swearing at hecklers who ridiculed her following her husband's defeat in the Super Bowl.
To make matters worse, the supermodel, who is married to New England Patriots quarterback Tom Brady, also blamed her husband's teammates for their Sunday night defeat.
SEE ALL THE SUPER BOWL PICS HERE
As Gisele left the VIP suites at the Lucas Oil Stadium in Indianapolis at the end of the match she was jeered by New York Giants' fans, whose team had just won the Super Bowl.
The Victoria's Secret model tried her best to laugh it off before raising her voice and blaming one of Brady's colleagues, saying: 'He didn't catch the ball when he was supposed to catch the ball. My husband cannot f***ing throw the ball and catch the ball at the same time.
'I can't believe they dropped the ball so many times.'
The model's Super Bowl woes do not end there, though. Before Sunday night's big game, Gisele was left embarrassed when one of her 'friends' leaked an email she had sent to her inner circle asking them to pray for Brady and his team to win the Super Bowl.
The email read: 'I kindly ask all of you to join me on this positive chain and pray for him, so he can feel confident, healthy and strong. Envision him happy and fulfilled experiencing with his team a victory this Sunday.'
The message was then widely ridiculed in the American press.
GISELE SET TO BECOME THE WORLD'S FIRST BILLIONAIRE SUPERMODEL
Celebrity news, beauty, fashion advice, and fascinating features, delivered straight to your inbox!