FIRST WATCH: Sherlock Holmes 2 trailer
Jude Law and Robert Downey Jr. are back once again, and you can sneak a peak here…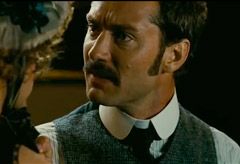 Jude Law and Robert Downey Jr. are back once again, and you can sneak a peak here…
Check out Jude Law and Robert Downey Jr. in the dramatic new trailer for upcoming flick Sherlock Holmes: A Game of Shadows.
The action-packed two-minute clip debuted online this morning, and you can sneak the very first peek HERE…
DRAMATIC MOVIE MAKEOVERS
After the success of the first flick, Holmes and Watson rise again in the much-anticipated Guy Richie-directed flick, set to hit screens in December.
And this time there is a newcomer in town – none other than Dragon Tattoo starlet Naomi Repace.
This time, the threesome team up to tackle scheming criminal mastermind scheming Professor Moriarty (played by Man Men's Jared Harris)
With the help of Stephen Fry as as Holmes' brother Mycroft, and stunning starlet Rachel McAdams, they trawl the streets of mean and moody London in search of their target – and find a few surprises along the way.
Eeek!
Sherlock Holmes: A Game of Shadows hits screens on December 16.
Will you be first in line to see the new Sherlock Holmes movie? Let us know in the comments box below
DRAMATIC MOVIE MAKEOVERS
Celebrity news, beauty, fashion advice, and fascinating features, delivered straight to your inbox!