FIRST PICS! Hayden Panettiere as Amanda Knox
The Heroes star has been spotted on set in Rome, and bears a chilling resemblance to the convicted murderer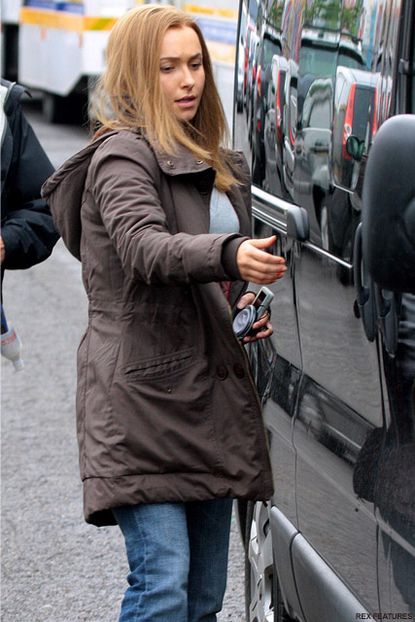 (Image credit: Rex Features)
The Heroes star has been spotted on set in Rome, and bears a chilling resemblance to the convicted murderer
Just last month it was announced Heroes star Hayden Panettiere had landed the role as convicted murderer Amanda Knox in a made for TV movie, to hit the US next year. Now the first pictures of the star on set have emerged, and she bears a striking resemblance to the American student.
SEE MORE DRAMATIC MOVIE MAKEOVERS HERE!
Hayden beat off stiff competition for a part in The Amanda Knox Story, signing on the dotted line with America's Lifetime network.
She admitted she was 'floored' and 'flattered' when bosses first offered her the role, and felt 'privileged' to be part of such an important story.
'I'm so privileged to play the role. It's a really great story and a very controversial one,' she said in a recent interview. 'I'm looking forward to it. I'm really excited about it. It's going to be a really tough project to do but it will be good.'
Now she's already been spotted on set in Rome, and, with a flowing auburn wig, looks chillingly like her subject.
Amanda was jailed for 26 years in 2009, for the drug-fuelled sex murder of British student Meredith Kercher in Perugia, Italy.
The sentence was given alongside her Italian former boyfriend Raffaele Sollecito, 25, who was jailed for 25 years.
And network bosses say the true story about an 'all-American' girl at the centre of a murder involving sex and drugs,' is perfect movie material.
But Hayden has told how she was banned from meeting Amanda by prison officials when she asked if she could meet her after being given the role.
'I wish. I know the Italian government is being pretty protective of her, her lawyers are being protective of her, which is pretty understandable,' she told the BBC's Newsbeat.
'It's something I would like to do (meet her) but I'd be more surprised if it happened than if it didn't.'
What are your thoughts on Hayden in The Amanda Knox Story? Let us know in the comments box below.
SEE MORE DRAMATIC MOVIE MAKEOVERS HERE!
Celebrity news, beauty, fashion advice, and fascinating features, delivered straight to your inbox!