FIRST LOOK! Brand new Twilight Breaking Dawn trailer
Scream! The first sneaky snipped of Robert Pattinson and Kristen Stewart has finally arrived…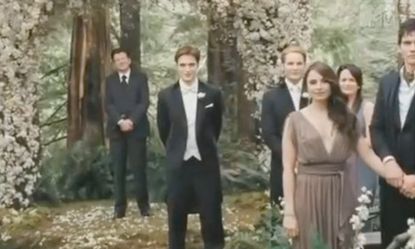 Scream! The first sneaky snipped of Robert Pattinson and Kristen Stewart has finally arrived…
Scream! We've been waiting what seems like years for the very first Twilight Breaking Dawn trailer to arrive – and now it's finally surfaced, we're beside ourselves with excitement.
The very first sneak peek at Robert Pattinson and Kristen Stewart in action dropped into our inboxes this morning, and you can watch it HERE!
SEE ALL THE LATEST BREAKING DAWN ON SET PICS HERE!
The tiny, 15-second teaser trailer debuted online last night, and shows the Cullen clan reunited again for an extra special event: Bella and Edward's wedding.
Shot from behind Bella's beautifully coiffed head (vintage diamond hair slide firmly in place) the tantalizing teaser shows the bride-to-be walking down the aisle, as Edward waits at the alter.
Although it sadly stops short of giving us the very first look at Miss Swan's much talked about wedding dress.
We're also shown a sneaky glimpse of the impossibly gorgeous congregation, and full Cullen Clan, as well as the beautiful woodland wedding setting.
And that's not the best bit. Oh no, Twi-hards. The preview also reveals that the FULL trailer is on the way in a matter of days, and will premiere during the MTV Movie Awards this Sunday.
So without further ado….
WATCH the very first Breaking Dawn teaser here!
What are your thoughts on the very first sneak peek at the Breaking Dawn movie? Love or hate? Let us know in the comments box below.
SEE ALL THE LATEST BREAKING DAWN ON SET PICS HERE!
Celebrity news, beauty, fashion advice, and fascinating features, delivered straight to your inbox!