FIRST LOOK: Ashton Kutcher as Steve Jobs in new clip from movie jOBS
Watch Ashton Kutcher play the Apple founder in this just-released footage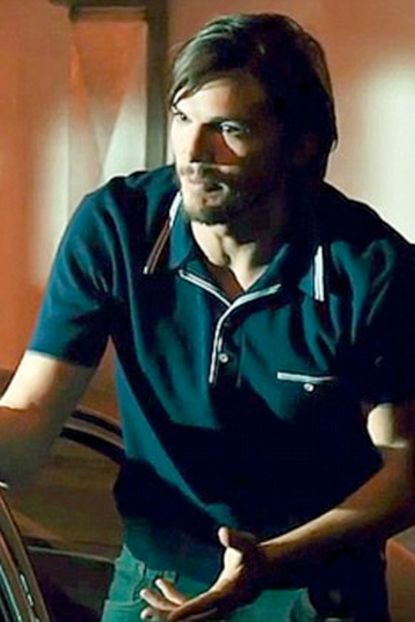 Watch Ashton Kutcher play the Apple founder in this just-released footage
Ashton Kutcher has some big shoes to fill as he takes on the role of Steve Jobs in the new biopic about the Apple-founder's life. Whether or not he can portray the inspiring businessman is down to your interpretation, although he appears to defy the critics in this new clip.
ASHTON KUTCHER FILES FOR DIVORCE ONE YEAR AFTER DEMI MOORE SPLIT
The new footage shows Ashton Kutcher as Jobs, chatting to Apple co-founder Steve Wozinak, played by Josh Gad.
In what appears to be the Hewlett Packard car park, where the talented duo formerly worked, they discuss the opportunities for a new operating system that Wozinak had created, with Ashton saying: 'This is freedom! This is freedom to create, and to do and to build, as artists, as individuals.'
To which Josh responds: 'Look. You're overreacting. Even if you were developing this for freaks like us, and I doubt you are, nobody wants to buy a computer... nobody.'
And this nicely sets up the next line, with Ashton adding: 'How does somebody know what they want if they've never ever seen it.'
DEMI MOORE FINALLY MOVES ON FROM ASHTON KUTCHER
Steve Jobs died in October 2011 after a long battle with pancreatic cancer, the film biopic will follow the Apple corporation from 1971-2000, when he returned to Apple to take on the role of CEO.
jOBS premieres today at the Sundance Film Festival in Utah and opens in the US on the 37th anniversary of the founding of Apple Computers.
What do you think of Ashton Kutcher's portrayal of Steve Jobs? Let us know below.
Celebrity news, beauty, fashion advice, and fascinating features, delivered straight to your inbox!