Dita Von Teese rejects skinny models for her lingerie collection
The burlesque star says she's not interested in skinny models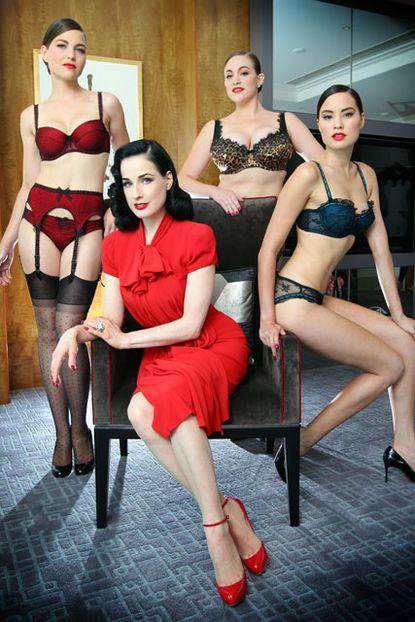 (Image credit: Rex Features)
The burlesque star says she's not interested in skinny models
Dita Von Teese has made a living out of her killer curves so it's no surprise that the burlesque star has no time for skinny women.
The 39-year-old has revealed that she rejected 12 models for her Von Follies lingerie range because they were 'too skinny.'
Von Teese is currently in Australia to launch her new underwear collection and told the Herald Sun: 'Of course I want to show all different types and more voluptuous girls. We gave a lot of models the axe for being too skinny - we probably turned away a dozen.
'It's important to me [that] we show curvaceous women and fuller-figured girls... lingerie looks terrific on girls with shape.'
The star, who used to date rocker Marilyn Manson, also admitted that despite regularly stripping off for her work, she has plenty of body worries.
But she added: 'I'm not going to point out my flaws, because then they'll be more noticeable. The world would be a better place if women kept their insecurities to themselves. I say, "Accept them, live with them."
'Anyone can be sexy and beautiful. It's about creating a mystery that makes people want to know more about you. There's a difference between sexy and trashy, but you can't define it.'
Wise words!
Celebrity news, beauty, fashion advice, and fascinating features, delivered straight to your inbox!