Dianna Agron 'terrified' of Alex Pettyfer after split
The worried Glee star's holed herself up in a hotel since the separation, according to reports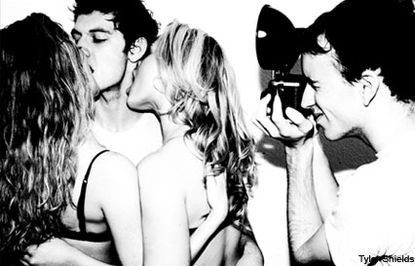 The worried Glee star's holed herself up in a hotel since the separation, according to reports
Just days after news of a split surfaced, it seems things are about to turn ugly between Dianna Agron and Alex Pettyfer. According to reports, the 'terrified' Glee star has been holed up in a hotel since the separation, which brought a 'vicious' phone call from her ex.
SEE DIANNA'S STYLE HISTORY HERE!
After shooting down engagement rumours in January, it's rumoured Dianna and Alex parted ways earlier this week, amid talk they were at loggerheads over a steamy photo shoot.
The pictures in question - taken by controversial US snapper Tyler Shields – show Brit actor Alex stripped to the waist, and locked in a steamy embrace with two scantily clad female models.
It's thought the shots were taken before the couple started dating, but Dianna was still said to be less than impressed when she set eyes on the pictures.
Now the story has taken a turn for the worse, with Us magazine reporting Alex has turned into 'a psycho loose cannon' following the split.
And it's said 'terrified' Dianna has checked in to a hotel under an alias.
Insiders say Alex's behaviour has becoming increasingly erratic, with onlookers reporting a 'heated confrontation' with Black Swan star Sebastian Stan, in which he accused the actor of trying to steal his ex.
'Dianna is absolutely terrified of [Alex],' a friend told Us, adding he 'absolutely lost it,' after she split, and threatened the Glee star during a 'vicious phone chat'.
Is there any truth to the latest relationship rumours? Let us know your thoughts in the comments box below.
SEE DIANNA'S STYLE HISTORY HERE
Celebrity news, beauty, fashion advice, and fascinating features, delivered straight to your inbox!