Daniel Craig talks 'graphic' Dragon Tattoo movie
'It's as adult as you can possibly make it,' the Bond star said of the Hollywood remake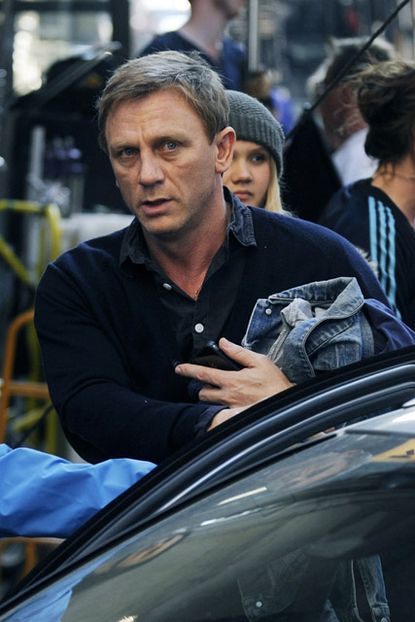 (Image credit: Rex Features)
'It's as adult as you can possibly make it,' the Bond star said of the Hollywood remake
As firm Girl With the Dragon Tattoo fans, we've been eagerly awaiting the Hollywood remake of Steig Larrson's ever-popular trilogy. But now we're not so sure.
Earlier this week Hollywood hard man Daniel Craig spoke out about the 'violent' and 'graphic' film for the very first time, revealing it is 'as as adult as you can possibly make it.'
THE GIRL WITH THE DRAGON TATTOO ON SET PICS!
Following in the footsteps of the original Swedish movie, the Bond star says the hotly-tipped blockbuster shocked even him when he saw the first footage of the movie.
'It's as adult as you can possibly make it,' he told Esquire in a new interview.
'This is adult drama. I grew up, as we f***ing all did, watching The Godfather and that, movies that were made for adults.
'And this is a $100 million R-rated movie. Nobody makes those anymore.
'They've given him free rein,' he added, explaining director David Fincher – responsible for last year's Oscar-nominated flick The Social Network – is 'not holding back'.
'He recently showed me some scenes, and my hand was over my mouth, going, 'Are you f***ing serious?''
'It's not that he simply showed me footage that was horribly graphic - it was stuff that was happening, or had happened. And somehow you don't see it. There's more than one way to sense violence. Much more powerful ways than seeing it step-by-step.'
Eeek!
WATCH the trailer here…
The Girl With the Dragon Tattoo hits screens on December 26.
Will YOU be first in line to see the Hollywood Dragon tattoo movie? Let us know in the comments box below.
THE GIRL WITH THE DRAGON TATTOO ON SET PICS!
Celebrity news, beauty, fashion advice, and fascinating features, delivered straight to your inbox!