Brad and Angelina come out fighting after rumours of a split
The superstar couple put on a united front as Hollywood gossips about a split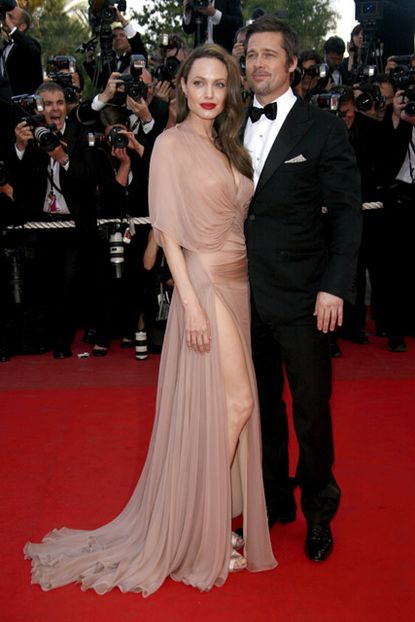 (Image credit: Rex Features)
The superstar couple put on a united front as Hollywood gossips about a split
Brad Pitt and Angelina Jolie have come out fighting after rumours of a split.
Last night the pair organised a romantic date night to combat Tinsel Town talk.
The hottest couple in Hollywood stepped out for a cosy dinner at Dolce Vita restaurant in Beverly Hills, putting on a united front amid the turmoil.
For the last few days the American tabloids have been awash with gossip that all is not well in the Brangelia household, after an unauthorised exposé book was released.
SEE OUR 10 BEST BRAD & ANGELINA MOMENTS
The new title, Brangelina: The Untold Story Of Brad Pitt And Angelina Jolie, suggests Brad and Ange's PDAs are all for show.
'They've broken up so many times it would make your head spin,' writes author Ian Halperin.
The celeb writer - whose past subjects have included Michael Jackson and Celine Dion - predicts that the couple will break up by 'Christmas 2010'.
Halperin revealed he used his position as an undercover paparazzo to gain explosive insider info from sources close to the celebrity couple.
'When I was undercover as a paparazzi at the Chateau Miraval in 2006 when she was giving birth to the twins, I was able to befriend several people working for them,' he explains.
'Everyone was at the hospital at Nice while Angie was in there, but I stayed behind.
'I knew that was my golden opportunity to befriend several people close to them. That's when I made my really key sources.'
And this is not the first time we've heard the celeb couple are on the rocks.
An insider recently told US Weekly that the famous pair 'fight all the time about the kids - where to put toys, saying the wrong thing to a nanny, not cleaning up. Like cats and dogs.
Oh, dear!
10 BEST BRAD & ANGELINA MOMENTS
Celebrity news, beauty, fashion advice, and fascinating features, delivered straight to your inbox!