Blake Lively and Ryan Reynolds make first ever public appearance with their children
Oh my. OH MY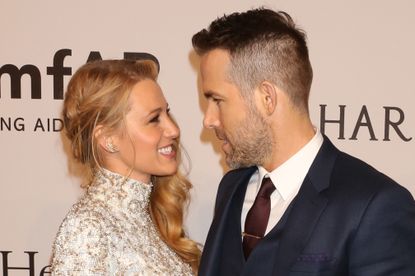 (Image credit: Copyright (c) 2016 BEimages. No use without permission.)
Oh my. OH MY
Ever wondered what Ryan Reynolds and Blake Lively's children look like? Wonder no more friends, as the Lively-Reynolds family as a WHOLE have made their first ever public appearance together and it is legit the most heart- melting moment we've seen on the red carpet for a long time.
Whilst the pair are more than happy to talk about their relationship - we've literally lost count of the amount of Ryan Reynolds and Blake Lively cute moments out there on the internet, the couple are notoriously private when it comes to their children; remember it was almost three months after their first daughter was born before they announced they had named her James. And we're still to find out the name of Blake and Ryan's new baby girl who was born in September. But one thing we do know? The Lively-Reynolds offspring are perfection.
Prepare your eyes...
But what was the reason for this very public family outing? Ryan-no-longer-party-liaison-Reynolds received a star on the Hollywood Walk of Fame, which meant the most epic of all family friendly day trips.
Naturally, Ryan had some words to say about his wife. Because if were married to Blake Lively, we wouldn't shut up about her, too. 'I want to thank my wife, Blake, who is sitting right there who is everything to me. You are the best thing that has ever happened to me,' Ryan said.
'You make everything better. You make everything in my life better. You've given me two of the most incredible children I've ever hoped to have.'
While you're breathing in this scene of untold perfection, it's worth noting that James has well and truly inherited her mother's luxurious hair genes. We're almost three decades older than James, and we're still unable to master the art of the perfect curl.
It's also come to our attention that James at two-years-old is the spitting image of her mother as a youngster. The genes are strong with this family...
Celebrity news, beauty, fashion advice, and fascinating features, delivered straight to your inbox!
Holly Rains is the digital editor of Marie Claire UK. She has over 10 years journalism experience, working as an editor and writer, specialising in digital media, content strategy and dog breeds. Prior to Marie Claire, she has held senior staff positions at ELLE UK, Grazia and Company magazine.
Holly is a frequent speaker, panelist and interviewer on a range of subjects including media trends, careers and entertainment. From working with Reuters to provide global red carpet coverage for events like the BAFTAs, to discussing fashion and beauty trends on network TV, she was also the host of the Marie Claire series 'Holly's First Dates', where she regularly interviewed a mix of inspiring woman and A-list celebrities (including Jack Black, Dakota Fanning and Renée Zellweger) - a series which garnered half a million views in its first two months. And was approved by The Rock.
Her love of office-based meetings means that the days of discovering the melting point of Cadbury's Flakes are long gone, but when she isn't dreaming of scheduling in meetings, she likes to think about social media, and how best to avoid it whilst still retaining the title of 'digital' editor. She also likes learning about emerging technology, Influencers and how to become a Financially Responsible Adult.
Contact Holly: holly.rains@futurenet.com