Why Mum's The Greatest...
A daughter describes why her mum deserves to win a day's shopping spree in our third Procter & Gamble competition.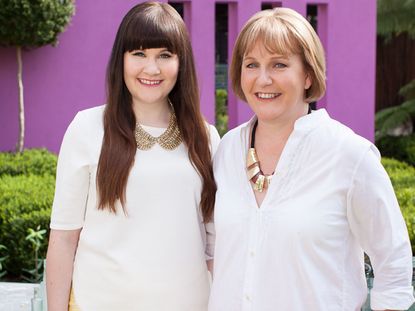 A daughter describes why her mum deserves to win a day's shopping spree in our third Procter & Gamble competition.
Rachel King, 26, is a PA for a property firm and lives in London. 'I nominated my mum to win a shopping experience because she is, quite frankly, the greatest woman I know. When I was 12, I started having panic attacks, and to this day I have no idea why or what brought them on. It was a difficult time, especially as, 15 years ago, nobody spoke openly about mental health.
'Mum helped me through the hard patches and never gave up on me. I remember her always cuddling me when I cried. She was so strong, even during the period when she was struggling with her divorce from my father.
'I don't live at home anymore and have moved to London with my boyfriend, but I speak to Mum two or three times a week, and go home every month or so. I have an amazing job in the City and a life I could never have imagined without my mother's support. I still get the odd panic attack, but they are quite rare now.'
'Not only has Mum always been there for me, but she also works tirelessly for charity, despite her full-time job, and that is why she deserves this prize.'
Carol King, 53, is a registrar at a prep school and lives in Windsor. 'As a mum, you just want your children to be happy, and I have to say that I felt useless when Rachel started having her panic attacks. It was a miserable time for her and completely changed her personality. If your child falls over, you can patch them up, but when something like this happens, all you can do is stand by them and comfort them.
'We tried getting medical help, and sometimes that worked, but Rachel is a remarkable girl, because she came out of it and has gone from strength to strength. 'I used to give her cuddles, the emotional support and the confidence to keep going, and I am incredibly proud of her as she did really well in her exams, despite hardly being at school. I am still there for her now when she gets an attack, though they are infrequent. I just hope that when she has children of her own, she will get them less and less.
'I consider myself to be very lucky: I have a lovely job working in a small school, I have delightful children and my health is good. So I do try and give a bit back. Over the years, I have done fund-raising for various charities, and recently got involved with Marie Curie and a local children's hospice.
'I do like shopping and need some outfits for a few events this summer, so am really looking forward to a great day out.'
Proud Sponsor of Mums, P&G has been helping to make mums' lives easier for over 175 years with trusted household brands such as Oral B, Fairy and Venus. Now it's saying thank you to mums for all the amazing things they do. To find out more, visit supersavvyme.co.uk.
Celebrity news, beauty, fashion advice, and fascinating features, delivered straight to your inbox!