From skiing cowboys to hot springs, why this Colorado resort is our new favourite ski destination
Mountain life in Colorado offers a whole new experience to European skiing, the wider runs, piles of fresh fluffly snow, sometimes only you cutting through the trees. If you want world class skiing, beautiful scenery and a slice of cowboy life, head straight to Winter Park and Steamboat, we loved it and sure you will too.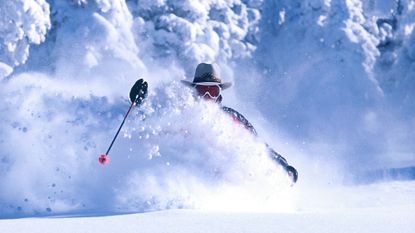 Mountain life in Colorado offers a whole new experience to European skiing, the wider runs, piles of fresh fluffly snow, sometimes only you cutting through the trees. If you want world class skiing, beautiful scenery and a slice of cowboy life, head straight to Winter Park and Steamboat, we loved it and sure you will too.
Why go? Colorado is quite possibly the most relaxed, ski destination in the USA. Everyone so happy to help with any touristy questions, with chatty restaurant recommendations from locals or which help with which skis will make me go faster, they genuinely want to help out and fiercely proud of their homeland.
A direct (8 hour) flight with BA to Denver and a short train ride into the city was such an easy way of starting our trip. We arrived at the grand Crawford Hotel walking through the epic lobby of the converted Union Station, the place was buzzing with people having dinner and drinks from one of the many food options. We dined on platters of cheese, meats and pickles from The Terminal Bar. A perfect light dinner for weary travelers in need of an early night. Our 7am train to Winter Park in the morning required a horribly early alarm call, body clock already out the window so after getting to know fellow journo's and hosts we all drifted up rooms to get an early night.
The Winter Park Express is so far in life the most incredible train journey I've been on. Gliding out of Denver at sunrise, industrial silhouettes against pink, orange, lilac skies, then more surburban scenes, peoples back yards revealing their country lifestyle, then out into the wild west riding above canyons and through mountains with a view of tiny Denver in the distance. It takes 1 hour and 40 mins with no stops and ends with an impressive Narnia moment of entering Moffat tunnel in relative normal scenery and popping out in thick snow topped alpine mountain. Arriving at out ski destination at 8:40 we were all eager to check in and get kitted out at the Mountain Adventure Centre.
The location: Both Winter Park and Steamboat are ski destinations with such varied terrain that there's something for everyone. I'm still pretty much a novice so taken out by ski instructors each day – mostly in a group but occasionally was the only student so one to one coaching which was so useful with my hopeless skills. We trained on green and blue slopes so wide even I could turn without almost clipping the pines. On one occasion it was just me and my ski instructor, not one other person in sight, the whole run to ourselves, that was a first and allowed a moment to admire the grand majesty of the mountain. Weather wise, it snowed and snowed and snowed during our stay. It was perfect for beginners, so fun to push skies through, I'd never experienced such a continuous unending powder supply, ski pass money very well spent. The room Winter Park - Zephyr Mountain Lodge
Videos you may like:
Video you may like:
We all know that everything in the states comes supersized and the same can be said for Zephyr Mountain Lodge. The one bedroom apartment is the size of an average 1 bed flat in London, with satisfyingly thick pile carpet, a bed you could sleep any way round in and not have your toes hanging off, a roaring fire and snow covered (obviously) view of the resort, it was a cosy haven after a day of throwing yourself down a mountain all day. There isn't a restaurant or bar in this hotel but everything is a 5 min walk away, we would pile into Goodys first thing, fill up on piles of sweet or savoury pancakes, coffee, smoothies whatever needed to fuel the morning runs. All good prices, nothing over $10, served quickly and delicious – perfect!
Steamboat - One Steamboat Place
After an intense drive from Winter Park – horizontal driving snow at night, warp factor effect for two hours – we handed the car over to the valet to park and instantly fell in love with the luxury of our next ski destination One Steamboat Place. On arrival the welcoming receptionist assured us that our chef was in the apartment preparing dinner, not a sentence I'm likely to hear again any time soon. It kind of gave us an idea this was a slightly above average place to lay ones head. When we unlocked the door the apartment was almost unbelievable. Privately owned but rented out, the high ceilings, enormous windows overlooking the mountain, art adorned walls, a huge kitchen, lounge, dining area and two chefs busy preparing h'ourdervs of cured meats, lobster tails, pickles, bread served with a crisp chilled white wine. After nibbling away we moved from lounge to dining table and were served the most tender elk steaks with green vegetables and a rich sauce all washed down with more delicious wine (they don't have anything else). Next was a desert of mango crème brulee, perfectly flamed to create that irresistible crunch. It was all so so good, by far the best meal we had on the trip and winning extra points for being able to sleep in the room next door, which is exactly what we did. The next morning the chefs were back to prepare a breakfast of dreams - porridge, fresh fruit, home made granola, bacon, everything you could ever want. Feeling ready we headed to ski valet service at the hotel to choose our skis and boards. Once armed with my protective gear and ski pass I went to meet my wonderful instructor and the rest of group headed straight for the sheer drops. The food
Winter Park
Vertical Bistro A very welcome early dinner was had at Vertical. Fighting jet lag and first full day of skiing under our belts the ease of walking less than five minutes from where we were staying was hugely appreciated. We pushed the table back to 8pm as all dinners had been booked at 6pm, we're European (on no sorry British argh) and can't eat that early. The restaurant was pretty chilled as peak hours are 6pm, people come straight from the mountain to eat – just letting you know in case you like being in a full bustling dining room. The food and venue reminded me of a good gastro pub – the Elk fillet steak reminding us where we were in the world. I went for the Lumberjack Burger, Colorado Grass Feed Beef with white cheddar, candied bacon, mixed greens, tomatoes and seasoned fries $16, it was amazing, perfect in fact, huge! Main courses devoured we were all exhausted so time to hit our huge beds, head and legs needing to be fresh for the morning. Volario's Always good to explore the local town so we headed into the town of Winter Park to dine at Italian influenced restaurant Volario's. Welcomed with a smile and whisked through to the restaurant the service was great and the menu varied with all the classics you want to see. I went for the Arugula Salad a delicious plate of prosciutto, fig, sumac vinaigrette, pecorino ($10), followed by the Pappardelle with foraged mushrooms, pine nuts, barolo butter, thyme, garlic ($18) and shared the wonderful Gelato Pie, ordering all flavour to share - salted caramel, pistachio, and chocolate ($9 per serving).
Steamboat
Café Diva A short drive from One Steamboat Place is Café Diva an up market restaurant serving the best Colorado has to offer. A very stylish dining room with low lighting, art adorned walls and incredibly friendly and knowledgeable staff validates the reason for packing just one pair of heels. After sampling half the menu we shared everything between us the dishes you need to know about are the incredible peanut butter and bacon sandwiches - Asian braised pork belly, Thai peanut sauce, Sriracha chili sauce, raisin nut toasts ($14) honestly, these are worth the flights alone, the tuna carpaccio fennel and arugula salad, shaved egg, capers, preserved lemon aioli ($23), the venison shortloin cabernet veal demi-glace, winter vegetables with almonds, yukon gold mashed potatoes ($45) and the divine tres leches bread pudding with salted caramel, sliced almonds, brown butter gelato ($11).
Downtown Steamboat is a super cool but low key high street with coffee shops, bars/restaurants, various stores AND a cowboy shop. LOW Country Kitchen is on the main street, it's huge glass windows and white interior feel fresh and modern and the open plan kitchen reassuringly in sight. Our wonderful waitress reels off menu info which is a homage to Southern cuisine served with some serious drinks – the cocktail menu at home in any swanky city hipster bar, I asked for a recommendation and was very pleased with my Mint Julep - The old Kentucky classic with "LOW" single barrel Buffalo Trace, mint ~ served in a julep cup of crushed ice ($11).
So much choice but finally I went for Braised Pork Cheek - brussel sprout & boiled peanut slaw, quinoa & benne seed, red eye jus ($9.25), then the amazing Jambalaya* - andouille, duck, blue mussels, roasted tomatoes and to finish Carolina gold rice, creme fraiche ($17.75). The vibe Winter Park Everyone is welcome at Winter Park, it's very famil orientated with kids under 12 skiing for free. The vibe is have fun, ask for help if stuck, everyone is super friendly from the guys operating ski lifts to the person you share a table with at lunch. During the evening people dress to be warm and cosy, it's a not a party resort, it's where you refuel, relax and recharge for the next day.
Steamboat Steamboat is a little more fancy, it's obviously freezing (we hit -18 one morning) so still pack everything fleecy but worth throwing a pair of heels into your case. Again everyone happy to chat and find out how you're liking the area or interested in where you're from, the vibe in Colorado in general is open and welcoming.
Don't miss
Mountain Park - Cat Skiing
I've only learnt to ski in recent years so this was beyond my skills and was very happy to head to the mountain for another skiing lesson but if you have the ability the smiles on faces when the rest of my group returned from their day was that this is a must. With trips organised every day by Powder Addiction it's something you should fit somewhere into your stay – being taken to more secluded and untouched corners of the Jonas Pass area of the mountain you can adventure your way down open space or through trees and be taken back up by the Cat – perfect!
Cost is $400 for the day including lunch from Rudi's Deli and two beers at the end of the day from Steamworks Brewery.
Not wanting to miss out on a treat that day I headed to Alpenglow Massage for the incredible "Mountain Massage" by owner Tracey Windmill. I'd been suffering with a little altitude sickness (a deep intense headache) and sore calf muscles after finally learning to turn and their signature massage did everything to relieve the pressure. Tracey is hugely skilled and has experience in many different massage techniques, she tailors every massage to the needs of the client and I can promise you it was the only thing that helped all day.
While you're there…
Steamboat – Del's Triangle 3 Ranch
It's cowboy country so any chance to get on a horse and be hosted by one of Steamboats local characters was a good change of scenery. After a morning of skiing we jumped on our shuttle bus and headed into the countryside. A family run ranch we were taken out on a 2 hour tour of the property by ex Olympic skier and full time cowboy Ray. He's the perfect host with stories of years gone by and a life certainly full lived. The horses are gentle the scenery beautiful it was such a peaceful way to spend an afternoon and only an hour away from Steamboat.
Cost are....$55 for a 1 hour, $85 for a 2 hour, $175 for a 1/2 day
Steamboat - Strawberry Park Hot Spring
There are a few things in life that seem ridiculous but in actual fact make total sense when you get to them, with this in mind stripping down to a swimsuit in sub zero temperatures I was sure was one of those moments. Shivering but excited it was only a couple of steps to get into the mineral rich water which was deliciously warm and in fact one was hot, maybe just a little too much to spend more than 10 mins in. It couldn't be a prettier setting snow topped alpines surrounded the hot spring, there were 3 areas, hot, warm and chilly – I managed two dips in the icey water coaxed in by my French snowboarding fellow companion, it came with the reward of a full body tingle when you slipped back into the warm pool. Run by a group of people that live completely off grid, it has a satisfying hippie feel and totally worth the $20 for adults and $10 for kids, especially as open until 22:30 Sun – Thurs and midnight Fri and Sat.
Celebrity news, beauty, fashion advice, and fascinating features, delivered straight to your inbox!