Here is where to head in the mountains when in search of Alpine Wellness
Fed up of the cities polluted air and in need of a healthy recharge? Badrutt's Palace in St Moritz Switzerland is not just a honeypot location for ski and snow. With deep blue lakes, green mountain tracks and dreamy alpine spas, it's a luxurious hideaway that makes you switch off your phone and just breathe alpine air.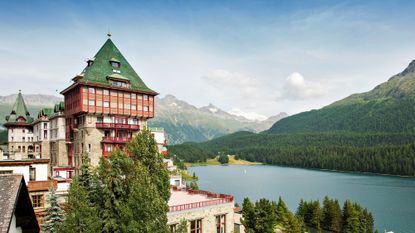 I have always been curious why the Swiss are known to have a high quality of life, so when the opportunity arose to indulge in a visit to the prestigious mountain resort Badrutt's Palace, I packed a bag (light on technology) and jumped on the smooth 6:30am Swiss Airlines flight from London. Words by Sarah Barnes
The Location:
Landing in Zurich we took a 2 hour train journey through the picturesque Swiss mountains, weaving in-between chocolate box villages and thick green pine trees until we reached St Moritz. Greeted by a friendly porter on the platform we bundled into a car and sped up the hill to Badrutt's Palace. Glamorous, rich in heritage and a historic landmark within the region, the hotel has been family owned since opening in 1896 by father and son founders, Johannes and Caspar Badrutt. Flocked to by icons such as Rita Hayworth and Alfred Hitchcock in the 40's and 60's, there are 157 rooms (37 of which are suites) amongst the towers and turrets, with balcony views of the lake and surrounding snow topped mountains.
Inside, we stepped into a world of dark oil paintings, carved wooden ceilings, libraries of timeless books and grand antique furnishings trimmed with red velvet, all giving the palace its iconic charm. 'Le Grand Hall' is known as the family room of St Moritz, a place to gather, people watch and indulge in afternoon tea with a view of the mountains against a star skied backdrop. We did so in cosy sunken sofas, letting our shoulders drop, sipping on hot tea whilst watching our worries escape out of the window.
The Food:
The concept of wellness involves eating well, right? With nine on-site restaurants and three bars, Badrutt's Palace had us covered. Our recommendations? Le Restaurant is a sprawling room with views to the lake, formally Europe's first indoor tennis hall, we came here for breakfast, starting our morning with a buffet of local bircher muesli, fresh fruits, juices and eggs (with all the trimmings) anyway we wanted, all to the sounds of a live piano. Dinner is best served at the Kings Social House, famed as the oldest club in Switzerland, this is a restaurant-cum-nightclub in collaboration with British chef James Atherton. Feast on hot sharing plates, followed by a slick drink and dancing. However fancy a casual meal? The nearby Chesa Veglia (built in 1658) is a traditional wood house. We ate at Patrizier Stuben, a cosy restaurant with low booths, red and white checked tablecloths, where we tucked into soft cheese stuffed ravioli and apricot crumble hot pot with vanilla custard by candlelight. Later rolling back to fluffy white beds stuffed and relaxed.
The Spa:
Fed, watered and our bodies caught up on sleep, we were ready to explore the concept of 'Alpine Wellness'. Intrigued? Us too. We slipped into our warm white robes and made our way to Palace Wellness inside the hotel. The spa's crown jewel is a cinematic indoor infinity pool with floor to ceiling glass walls so each lounger looks onto the mountains, lakes and blue sky (Not a desktop screen saver, trust me, I pinched myself). You can lay for hours, indoors or outside, gazing at the breath-taking views, truly stunned. Once we gazed until our jaws ached we swam in the outdoor open- air heated pool, floating in the warm water while creating clouds with our breath and filling our lungs with the cool mountain air. Hot tub pools are built into faux caves and filled with icy blue water to hide away in. While the Wet Zone is complete with a hydrotherapy pool, sauna, aromatic steam room, ice room and rain showers that massage you as you lather up pine smelling bubbles to wash over your body. Later we ate our way through fresh salads, plates of chilled sashimi and green juices in the spa side restaurant La Diala.
The Treatments:
Now this is the place for a spot of pure self-indulgence. With a menu that rivals even the most established of spa's, picking a treatment will not be easy. I was treated to the Relaxation Massage, 50 minutes of pure heaven. The highly trained therapist coated my limbs in a rich aromatherapy oil which my skin drank in greedily. Working over my legs, arms, chest, stomach and back, knots were released and tension relieved as I melted into the table. Also worth booking, the Exfoliate Remedy which uses alpine salts to polish away dead cells to leave your skin satin smooth. Follow this with the Triple Lift Facial, 120 minutes of massage to lift, tone and re plump skin using products from Biologique Recherche, which balances your skin's PH level to leave you glowing. Post-treatment you can cuddle up in your robe, green tea too hand in the relaxation room, getting lost in the mountain views and floating in and out of glorious sleep.
Must Do's:
We started our mornings with a yoga lesson, stretching and yawing while working through sun salutations, a sort of salute to the mountains as our minds cleared and brain fog fled. Wanting to make the most of the mountain air? In summer season guests can see St Moritz town by E-Bike as well as hike, horse ride, play tennis and go wild swimming, kite-surfing and sailing on the lake. Do not leave without taking the Corviglia cable car up the mountains where the views span the whole of St Moritz, the air is crisp and it is so quiet you can think clearly and relaxed fully untouched. We left our phones behind, got outdoors and switched off from hectic life back in London- moving to Switzerland could be an option…
For more information on Switzerland visit www.MySwitzerland.com
Winter Season 2019/2020: The hotel opens 6 Dec 2019 and closes 30 March 2020.
Summer Season 2020: The hotel opens 26 June 2020 and closes on 7 September 2020.
Prices start from CHF 450/ £330
Celebrity news, beauty, fashion advice, and fascinating features, delivered straight to your inbox!
Sarah Barnes is Junior Beauty Writer and Production Assistant at Marie Claire UK.
After attending a military school growing up (we are talking camo print, crawling through the mud) Sarah craved a creative outlook with fashion and beauty always being a huge draw. With a degree in Fashion Journalism from The University For The Creative Arts, Sarah was introduced into the world of beauty, health and print after publishing her own university magazine, which was an investigative project into the world of Paleo and Primal Wellbeing. Her love for production came after moving to Vancouver Canada, working on the sets for Toyota commercials as a production assistant.
Four years later, she is now Marie Claire UK's Junior Beauty Writer and Production Assistant. Combining both her love for writing and production, having worked her way up from intern. With each day being different Sarah can be found writing beauty features, reporting backstage at Fashion Week on the latest beauty trends and working on Marie Claire's various beauty awards and video content. Always on her face beauty wise; Urban Decays 24/7 Eyeliner in Roach, Elemis Daily Defence Shield SPF 30 and Estee Lauders Radiant Double Wear Concealer.
Sarah's job also allows her to travel the world for Marie Claire's beauty shoots, working on the shoot production and assisting with booking the best models and photographers. Highlights include shooting at sunset in the Lanzarote desert, from a speedboat in Mauritius and along the wild beaches of Sri Lanka- maybe that army training was useful after all?