Ever heard of pegging? Why it's the latest sex position everyone's talking about
Plus, why it can transform relationships and orgasms for all genders.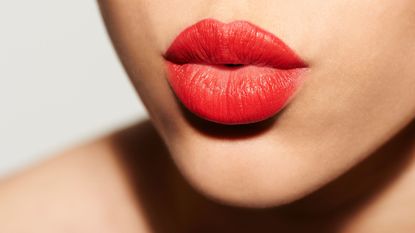 (Image credit: Getty Images)
Heard the term pegging doing the rounds and keen to know what it means?
In short, it's a sex position that normally involves a cis woman wearing a strap-on dildo to penetrate their partner's anus, who is often (but not always) a cis man. While, of course, all genders and sexualities can have anal sex using a sex toy, the term pegging normally refers to anal penetration of a cis man by a cis woman.
A 2020 Lovehoney survey revealed that 10% of women polled had pegged their partner, and one in ten said they'd like to try it. Sure, it's pretty out there as far as sex positions go, but like bondage for beginners, jiggle balls, or the Kamasutra sex positions, it's a good one to try if you're looking to mix things up a little.
Ready to sexually venture into unknown territory with your partner? We've spoken to Ian Kerner, a sex therapist and author of She Comes First, Julia Kotziamani, a love, sex, and relationship coach, Kate Moyle, a sex and relationship psychotherapist, and Dr Gayle Brewer, a sexual behaviour and relationship psychologist from the University of Liverpool. Here, they share their knowledge - just add one of the best sex toys and you're good to go...
What is pegging?
Pegging stereotypically refers to a cis man being penetrated anally by a cis woman wearing a strap-on dildo.
According to sex therapist and author of She Comes First Ian Kerner, PhD, the term was first coined by sex columnist Dan Savage.
That said, Julia Kotziamani - a love, sex, and relationship coach - thinks strap-ons are "a great addition for anyone with a vagina." She goes on to say: "They are great for partners of any gender for penetration or pegging - it just comes down to what feels most comfy.'"
Best pegging accessories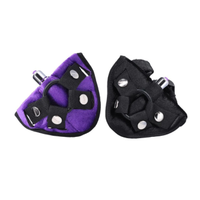 Tantus Vibrating Velvet Dildo Harness, £20.24
As recommended by: Julia Kotziamani, love, sex, and relationship coach.
What she thought: "The Tantus Vibrating Harness is the best I've tried. It can hold a range of dildos which you can pick alongside a partner."
Pros: Versatile | Affordable.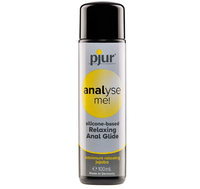 pjur Analyse me! Relaxing - Silicone-Based Lubricant, £13.35
As recommended by: Kate Moyle, sex and relationship psychotherapist.
What she thought: "A specific anal lubricant when you are engaging in pegging is key - this is designed differently to vaginal lube and made to last longer."
Pros: Designed for anal | Long lasting.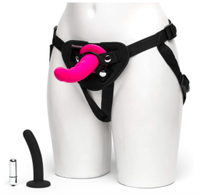 Tracey Cox Super Sex Strap On Pegging Kit, £49.99
As recommended by: Kate Moyle, sex and relationship psychotherapist.
What she thought: "Strap-ons are about finding what works best for you in terms of sizing," she advises.
If you're new to pegging, this kit includes a bullet vibe, two silicone dildos of different sizes and textures, and a machine-washable harness.
Pros: Beginner level | Range of sizes.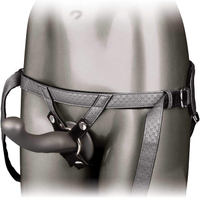 CalExotics Strap On The Royal Sensual Set, £85.12
As recommended by: Kate Moyle, sex and relationship psychotherapist.
What she thought: "Toys like The Royal Sensual set also have a grind pad which puts the wearer's pleasure into focus, too."
Pros: Grind pad included | Easy to use.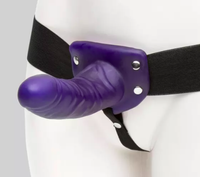 Lovehoney Perfect Partner Unisex Hollow Strap-On 6 Inch, £19.99
This strong-but-hollow dildo is great for more experienced pegging, complete with an elasticated harness that will stretch to fit comfortably around the hips.
Pros: Elasticated | Hollow.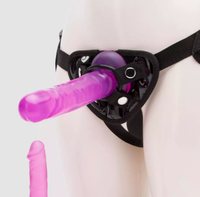 BASICS Strap-On Harness Kit with 2 Dildos, £34.99
Another great dildo for first-time or more amateur peggers, this strap-on is both sleek and stylish and promises to be comfortable, too. Choose between two pink jelly dildos in different sizes, with ridges offering differing levels of stimulation.
Pros: Good for beginners | Range of sizes.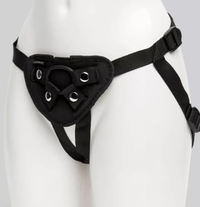 Lovehoney Universal Strap-On Harness in Black, £24.99
Got a dildo but just need a harness? This one from Lovehoney is reasonably priced and comfortable, according to reviews.
Pros: Comfortable | Affordable.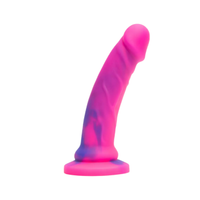 Lifelike Lover Luxe Realistic Multicoloured Silicone Dildo, £34.99
At seven inches, this lifelike dildo promises to be satisfying and realistic, too - which is exactly what you were after, right?
Pros: Realistic | Suction-cup base.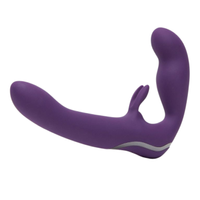 Lovehoney Desire Luxury Rechargeable Strapless Strap-On Dildo Vibrator, £69.99
Coming in at a higher price point, we recommend investing in this one if you know you and your partner really enjoy pegging. With over 90 five star reviews, this one hits the spot when it comes to vibration, flexibility, and teasing it's time to click 'buy'.
Pros: Vibrator | Strapless.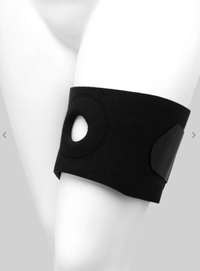 Lovehoney Ultra Plus Size Thigh Strap-On Harness, £39.99
The best thing about a thigh strap-on? You have full access to self-pleasure whilst with a partner. Pop this on and get your own toys out for even more experimentation.
Pros: Easy to use | Adjustable.
How common is pegging?
Perhaps more common than you'd think. The same Lovehoney stats as above revealed that, while 10% of women had pegged their partner, 45% of couples said they didn't know what it meant.
They also reported it's clearly a move that's on the rise among heterosexual couples in the UK, with sales of strap-ons up by nearly 200% last year.
How did pegging become popular?
In the same way that Ann Summers attributed the turn-of-the-century buzz in vibrators to the appearance of the Rampant Rabbit on a 1998 episode of Sex And The City (and Fifty Shades Of Grey led to a spike in spanking, jiggle balls and bondage), popular culture has helped put this sex move on the kinky map.
Back in 2020, pegging was the hot topic in Netflix's The Bold Type's episode 'To Peg or Not to Peg'. Kat's character decides to get experimental with her new body Cody after admitting she's not 'dominant in the bedroom'. The lead female loves challenging preconceived gender roles and says: 'I guess I thought it would be physical, and sexual, and primal, [which] it was, but it was also intimate, you know?'
It's not the only time we have seen pegging on screen. Remember when we saw the main characters get down to it in Broad City back in 2015? Or, that scene between Michelle and Jeremy in The Peep Show?
Pegging also made a memorable foray into fashion when Cara Delevingne wore a politically charged 'Peg the Patriarchy' vest in 2021. The garment, which was designed by Dior's Maria Grazia Chiuri, was all about 'sticking it to the man' - in Cara's own words.
Pegging also made a cameo in a sex montage in the hit superhero movie Deadpool, with Ryan Reynolds taking one for the progressive male team. There's even a Reddit thread with 34,000 Redditors devoted to the sex move, where posts range from harness advice to celebratory "we did it!" selfies.
Benefits of pegging: 5 to have on your radar
According to Kerner, much of the appeal of pegging is to do with male prostate pleasure. When a man is pegged, the prostate, which has been called the 'male g-spot', is stimulated, leading to greater sexual satisfaction and orgasms. FYI, the prostate is a walnut-sized gland located just underneath the male bladder easily accessible via anal penetration.
But interestingly, he believes that the psychological pleasures of pegging rival (and possibly transcend) the physical pleasures. He says "the switching and subversion of gender roles, the playing with power, and the novelty of a woman wearing a penis can all be a massive turn on for a man."
Plus, he notes that trying any new sex moves can be good for your relationship. "Novelty stimulates dopamine transmission, a neurotransmitter that plays a big role in sexual excitement and arousal. So if your sex life is getting a little familiar, new sex moves—pegging being included in that—is a way to get the dopamine flowing."
Dr Gayle Brewer, a sexual behaviour and relationship psychologist from the University of Liverpool, agrees. "Ditching sexual stereotypes associated with gender and sexuality can be liberating. Traditionally, we have this idea that it's the man's role to take control sexually, and that women are more submissive in the bedroom."
Brewer continues to add that openly sharing sexual fantasies – even if you don't act upon them – is a sign of a positive, healthy relationship. "To allow men the ability to say that they don't want to be in control all the time – that they like it when their female partner initiates sexual activity – and, likewise, to allow women to feel empowered to take control and not feel that sex is something that happens to them is a great leveler," says Dr Brewer.
Don't worry - it's not all psychological. Pegging can bring you loads of physical pleasure too as the base of the dildo will press against the labia, pubic mound, or clitoris every time you thrust.
Pegging works without a waist harness, too - you'll just need a double-ended dildo. As the strapless strap-ons slip inside both you and your partner, you'll both be able to enjoy internal pleasure. These are best for people who have lots of control down there, Kotziamani says. "I find them tricky to keep in place once things start getting exciting."
It doesn't stop there, either. Did you know that you can get harnesses that fit your thigh or arm? If your pelvic mobility is limited, you want even more control or you find a waist harness uncomfortable you can strap the dildo to where it feels good.