Dame Aer review: "As light as a feather but offers seriously powerful pleasure"
It's one of the lightest suction toys you can buy.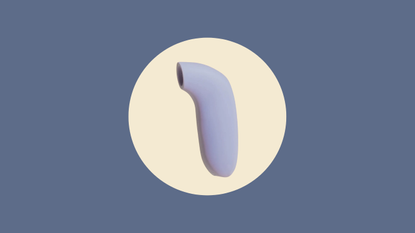 (Image credit: Future)
Let's face it - suction sex toys can be amazing, but many are bulky and can feel uncomfortable. That's where this Dame Aer review comes in, designed to prove to you that some sexual wellness brands are stepping up and changing the game. Not only do they promise to have designed the lightest clitoral suction sex toy ever, but it promises to be vulva friendly and made from 100% skin-safe silicone. This means you'll be able to enjoy super intense sensations from suction and vibration without applying too much pressure to your body. I'm a fan - for my full review, keep reading.
Reasons to buy
+

Flexible clitoral nozzle

+

USB rechargeable

+

Waterproof

+

Extra light

+

Easy to hold

+

Easy-to-use buttons

+

3-year warranty

+

Storage bag

+

5 intensity settings

+

5 airwave patterns

+

1.5 hours battery

+

2 hours charge time
Reasons to avoid
-

Only one size clitoral chamber

-

Difficult to clean
So, you're keen to read my Dame Aer review. Fun fact for you: the suction toy promises to be the smallest and lightest oral sex toy out there, packing a punch with small yet mighty airwave technology.
Like how a tongue feels when it flutters during oral sex? Then you should try this suction toy. Sure, there are other oral sex suction sex toys out there, but as a professional sex toy reviewer, this is one of my favourites.
Why? Well, you'll have to keep reading to find out, but it's light as a feather, simple to use, and designed by a sexual wellness brand I'm a big fan of, too.
More about me, while I'm here: I decided early on that I wanted a career with a difference. which resulted in me becoming a professional sex toy tester and reviewer. I'm Ness Cooper, a sex and relationship therapist and clinical sexologist. Each day, I answer people's most intimate relationship, intimacy, and sex questions honestly and openly.
For my honest and open take on the toy - keep scrolling. Don't miss my Womanizer OG review, We-Vibe Tango X review, and Satisfyer Heated Thrill review, while you're here.
Dame Aer review: "Comfortably light yet still extremely powerful"
The Dame Aer isn't just any powerful suction sex toy for your clitoris, but one of the lightest sex toys to hold, too.
It allows you to effortlessly enjoy oral sex-like stimulation at a touch of a button.
More pleasure for less effort is a definite win, in my opinion...
Special features and what sets it apart from competitors
The Aer is a small, lightweight and easy-to-hold clitoral suction sex toy. Similar sex toys include the Lelo Sila, Lovehoney Rose, Smile Makers Poet, and Womanizer Pro40 but they're all heavier and larger than the Aer.
Unlike other brands, the Dame Aer has a flexible clitoral nozzle which I found more comfortable. The flexibility of the nozzle also means that when the sex toy gets knocked mid-session, it's less likely to move off your sweet spot, meaning that your solo pleasure session can continue without interruption.
Dame uses ergonomic buttons which are easy to use and less likely to knock to a different vibration setting (there are five to choose from).
How to use the Dame Aer and how it was
I am already a suction sex toy convert but the Aer is probably one of my favourites to use. That's because it's both simple and comfortable to position, plus the buttons on the Aer are ergonomic (there's much less of a chance of miss-clicking and changing settings mid-mood).
When testing, I found that the clitoral nozzle is more comfortable than other bulkier suction sex toys plus the chamber is just the right size for my body. Add in the intense suction and vibration patterns and the Aer doesn't disappoint - each use has led me to experience an amazing orgasm.
It can be used easily alongside other sex toys, including insertable vibrators and dildos (read up on our go-to's in our best sex toy guide).
I found that with the Dame Aer, you can feel more of a build-up towards your orgasm, unlike some other suction sex toy designs (I've found that with others, the orgasm can be amazing, but sneak up on you a bit and catch you by surprise). This means you're able to enjoy the sensations more before, during, and even after.
When moving around a lot or pushing the Aer firmly against my body, the vibrating air pulses don't cut out or get weaker, which I found impressive. Many other popular oral sex toys with suction chambers simply cut off and stop working when too much pressure or movement is applied to the nozzles chamber - but not with the Aer.
I'd happily trust the toy in the hands of my partner due to how the nozzle is flexible - I think that there's less of a chance for my partner to cause me accidental discomfort. However, I have found that its shape doesn't work well in close body-to-body sex positions where your partner rests over your clitoral area. For comfortable sex position ideas, check out our Kamasutra positions guide.
How to keep it maintained and clean
While the Dame Aer is waterproof, the clitoral chamber can be a bit difficult to clean - using a cotton bud or similar may help.
The rest of the sex toy can easily be washed with warm water and your standard antibacterial sex toy cleaner.
About Dame
Dame is a sexual wellness company that not only produces sex toys that work but also offers expert advice and workshops produced by a team of trained sex experts through their clinical board.
Sexual wellness is one of their key priorities and one we echo here at Marie Claire UK
Should I buy it?
The Aer may be lightweight and smaller than other oral sex suction sex toys, but it's probably one of my favourites. Why? Well, it's one of the most powerful in my collection, for starters.
That, and its flexible nozzle is really commendable. I wish more brands offered this on their suction sex toys, as firmer nozzles can be uncomfortable and have a higher chance of moving around during solo sex, often killing the mood. This doesn't happen with the Dame Aer, though - yep, I'm a fan...
Celebrity news, beauty, fashion advice, and fascinating features, delivered straight to your inbox!
Ness Cooper is a Sex and Relationship Expert and Writer. She's been a freelance writer for over 10 years, knowledgeable in all areas of human sexuality and has a special interest in sex toys and tech.
Ness has been nominated for many awards during her career. From ETO's Best Erotic Journalist, to Best Sexologist at the 2022 Sexual freedom Awards.
Her first published pieces were theatre reviews, written for her local paper when she was 13. I think we can all agree that she now reviews more fun items.
Not only does she write down-to-earth sex and relationship articles, she tests sex toys, including prototypes. She knows what works and what doesn't with sex tech and sexual pleasure!
Ness is always training and trying to expand her skills. This has led her to train in Pelvic Floor Biomechanics and Pilates. Her pursuit of knowledge has also taken her to the Kinsey Institute in the US, where she studied human sexuality.
With a background in sex and relationship therapy, coaching, and education, she's one of the UK's leading Sex and Relationship Coaches and Sexologists. She helps people to find their authentic sexuality and sexual happiness and teaches Sexology to other human sexuality professionals.
Ness also offers 1-2-1 coaching and group sessions.