Womanizer OG review: "I'll be honest - I never knew you could feel pleasure like this."
One of the first G-spot air toys didn't disappoint.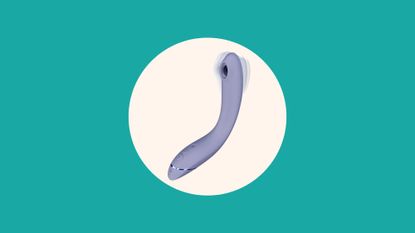 (Image credit: Future)
News flash: air pleasure technology isn't just for the clitoris now. The new Womanizer OG from (yep, you guessed it) Womanizer is the first pleasure air G-spot vibrator - definitely a game-changer for G-spot orgasms. Need to knows: it combines air pleasure tech with powerful vibrations. Pair that with a flexible internal shaft and you'll experience new sensations and pleasure against your G-spot that you didn't know were possible before. Expect twelve intensity options, three vibrations and a flexible shape that makes it easy for you to find just the right spot. The added bonus of it being waterproof allows you to take it for a deep dive in the bath or shower if you fancy. Keep scrolling for my full review.
Reasons to buy
+

Pleasure air technology

+

Suction and oral sex stimulation

+

Can be used internally and externally

+

Cotton storage bag provided

+

Rechargeable

+

Body-safe silicone

+

12 intensities

+

3 vibration settings

+

Flexible shaft

+

Smart silence which turns off air pulse mode when not touching the body

+

G-spot shaft

+

Rechargeable

+

Waterproof
Reasons to avoid
-

Can be a pain to clean

-

The flexible shaft isn't too great

-

Smart silence setting can cut out when still in contact
So, you're keen to read my Womanizer OG review. Let me enlighten you, first - because yes, oral sex sensations can be achieved against your G-spot, it turns out.
Womanizer is one of the first brands to achieve this - no mean feat, I'll add. Let's face it - suction vibrators and sex toys are pretty great already, and we've worked out that suction sex tech can be used on loads of external erogenous zones.
Next up: internal. For a while, sex experts and sexologists thought it wasn't possible (or, well, pleasurable). That is, until Womanizer took a leap with the Womanizer OG.
That's where I come in: I'm Ness Cooper, a sexologist who's been testing out the Womanizer OG for you (full review, below). Worried about it being a new toy? I've reviewed sex toys for over ten years and believe that Air Pulse Technology is perfectly safe and pleasurable to use against your G-spot. For my full take on the new toy - keep reading.
Womanizer OG review: "It can suck areas you thought wouldn't be possible - it's really good."
The Womanizer OG offers two types of stimulation at once, combining air pulse sensations alongside vibrations.
With the added bonus of a flexible G-spot shaft, the silicone sex toy aims to offer an intense and unique G-spot experience (and I can confirm it is certainly unique).
If G-spot orgasms are something you've never experienced before - read on.
Special features and what sets it apart from competitors
There are a lot of external clitoral suction vibrators on the market, but the Womanizer OG is one of the first internal ones, making it pretty unique. The OG has a flexible G-spot shaft, which other brands such as Je Joue have explored before but never with the addition of suction vibration.
Other standout facts: the Womanizer OG has a "smart silent" feature. This means that the pleasure air pulse technology won't turn on if the shaft isn't in contact with the body. When testing, while I found this fiddly to begin with, I still think it's a great addition to the toy.
With other internal suction vibrators on the market, once the internal suction is on it's hard to turn off. Not with the Womanizer OG, though, which will switch off when you take the sex toy out.
Be assured, suction sex toys are safe to use internally (don't listen to any scaremongering) but they can be a bit uncomfortable to remove. You were warned.
Another fun feature is the "afterglow" function, which slowly turns down the vibrator settings once you've reached orgasm. This is great as I found it reduces any uncomfortable sensations when removing the toy.
How to use the OG Womanizer and how it was
First impression: the Womanizer OG's box is massive, and while it feels exciting to open, it could definitely be smaller (and more sustainable - lots of unnecessary packaging).
Opening the box, I found the OG alongside the USB cable and storage bag. Popping it on charge straight away, I was curious about how air pulse technology would feel inside my body and against my G-spot.
Compared to the Womanizer Pro 40, the Womanizer OG has a flatter body, which made it slightly harder to position. Similarly, when positioned over my clitoris, it had less room to expand in, making it harder to enjoy than when using one of Womanizer's clitoral suction sex toys.
That said, it was really pleasurable to use once I got used to it. It was a different experience altogether - think buzzing vibrations buzzed, sucking air pulse technology and a slight flicking sensation against my vaginal wall. When it rested against my G-spot area, it felt amazing.
One thing to note - even with the flexibility of the G-spot shaft, I found it hard to keep the sex toy rested in the right position to continuously hit my G-spot (my pelvic floor sometimes pushed it out of position and the OG's Smart Silent function would sometimes stop the air pulse technology).
That said, when it did stay in place, the orgasm was incredible (almost addictive). The shaft isn't easy and the buttons are difficult to use, though, so I often found it hard to reach this intensity of pleasure.
In short, when it works, it's amazing, but when it doesn't, it's a bit of a letdown.
How to keep it maintained and clean
As the Womanizer OG is waterproof, it's fairly easy to clean with your standard sex toy cleaner and warm water.
The air pulse chamber may need extra addition, but it's not as fiddly as some sex toys when cleaning.
Once it's dry pop it into its cotton storage bag ready for next time.
About the brand Womanizer
OG and Womanizer is part of WOW Tech, one of the first companies to ever launch pleasure air technology (the tech that simulates the feeling of oral sex).
Fun fact: they're also one of the first big brands of sex toys to ever produce fully biodegradable sex tech.
Should I buy it?
When the Womanizer OG stays where it's meant to be, it's really amazing and makes you want more and more.
The pleasure air technology can be used on various parts of the body, nipples, clitoris, G-spot, anus, penis, and erogenous zones. It's pretty versatile and the shaft length makes all these pleasure opportunities in easy to reach.
Sometimes it doesn't work - but if you won't find this disappointing, definitely *add to basket* ASAP.
Celebrity news, beauty, fashion advice, and fascinating features, delivered straight to your inbox!
Ness Cooper is a Sex and Relationship Expert and Writer. She's been a freelance writer for over 10 years, knowledgeable in all areas of human sexuality and has a special interest in sex toys and tech.
Ness has been nominated for many awards during her career. From ETO's Best Erotic Journalist, to Best Sexologist at the 2022 Sexual freedom Awards.
Her first published pieces were theatre reviews, written for her local paper when she was 13. I think we can all agree that she now reviews more fun items.
Not only does she write down-to-earth sex and relationship articles, she tests sex toys, including prototypes. She knows what works and what doesn't with sex tech and sexual pleasure!
Ness is always training and trying to expand her skills. This has led her to train in Pelvic Floor Biomechanics and Pilates. Her pursuit of knowledge has also taken her to the Kinsey Institute in the US, where she studied human sexuality.
With a background in sex and relationship therapy, coaching, and education, she's one of the UK's leading Sex and Relationship Coaches and Sexologists. She helps people to find their authentic sexuality and sexual happiness and teaches Sexology to other human sexuality professionals.
Ness also offers 1-2-1 coaching and group sessions.