Satisfyer Heated Thrill review: "Honestly? This is one of the best toys I've tried for exploring G-spot orgasms."
Keen to read more? We thought you might be..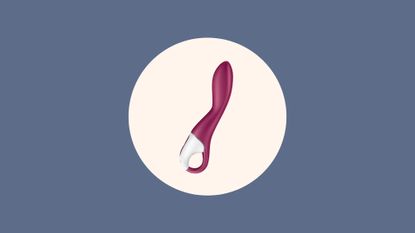 (Image credit: Future)
On the hunt for a toy that makes G-spot play more pleasurable? Aren't we all. Enter stage right, the Heated Thrill sex toy from Satisfyer, a toy designed for g-spot stimulation that also has the option for you to heat up the sex toy's shaft at a click of a button. Other important stand-out features: all twelve vibration and heat settings can be controlled on the toy and via the Satisfyer app, too, which means you can explore long-distance partner play at the touch of a button. When testing, I found that the app allows you to connect easily, plus the various built-in functions are ideal for helping you to find new ways of enjoying sexual pleasure.
Reasons to buy
+

Heat function up to 39°C

+

App compatible

+

Music activated vibes

+

Erotic story activation vibes

+

Long distance option

+

USB rechargeable

+

Waterproof

+

G-spot shaft

+

Handle

+

Two strong motors

+

Rumbly vibrations

+

Skin safe silicone

+

Multi-sensorial experience
Reasons to avoid
-

Storage bag not included

-

Heat function can be slow.
Heated sex toys are actually pretty new to the market, but after you read my Satisfyer Heated Thrill review, you'll be convinced to *add one to basket*. Why? Well, because I'm a clinical sexologist and I reckon it might just be the perfect sex toy.
Yep, you read that right - not only does it have multiple functions, a heated G-spot shaft, and a handle for rocking yourself toward an amazing orgasm, but can be controlled from your (or your partner's) phone via the app, too.
I reviewed the toy extensively (more on that below) and detail everything you need to know below - but first, a proper introduction so you know to trust my word when it comes to toys.
My name is Ness Cooper and I've tested sex toys professionally for the past ten years. While many other toys have tried to offer the functionality of the Satisfyer Heated Thril, all have failed and ended up being rather dissatisfying. Not this one, though, which I genuinely believe is one of the best sex toys on the market at current.
Don't miss our edit of the best sex toys, period, while you're here, and do scroll my Satisfyer Heat Wave review, We-Vibe Touch X review, and Satisfyer Pro 2+ review, too.
Satisfyer Heated Thrill review "It's one of the best toys I've tried for exploring G-spot orgasms."
Spoiler alert: this isn't just any old G-spot vibrator - far from it. The Satisfyer Heated Thrill has loads of extra perks which I haven't seen before in other sex toys. Thinks an effective and easy-to-use heat function along, strong, non-rumbly vibrations, and an ergonomic G-spot design that result in amazing orgasms.
On top of that, the vibrator can be connected to the Satisfyer Connect App which allows you to explore different options for both solo and couples sex.
For what it offers, the Satisfyer Heated Thrill is one of the most affordable sex toys out there (it has so many bonus functions).
Special features and what sets it apart from competitors
As above, the ability to control from an app is a particular highlight for me - you're investing in an app-compatible sex toy with pre-installed, guided, live control, plus sound and music integration control options. The Heated Thrill has a heated shaft option, too (you might have guessed from the name) which also can be controlled by the app, if you wish.
Don't fancy controlling the Satisfyer Heated Thrill from the app? You can still use the sex toy manually - simply press the three buttons on the handle to enjoy twelve vibration patterns and intensities.
This sex toy is waterproof and when testing, I found that the heat function and handle both helped to make erotic water adventures easy and enjoyable.
The shaft's shape is designed to put static pressure upon the g-spot and the handle allows you to rock the g-spot tip back and forth with ease, which I found made G-spot orgasm effortless.
Not to mention the fact that the handle makes it easier for a partner to control the sex toy when using it with you, too. (Those of you in a long-distance relationship, we're looking at you). In my opinion, it's one of the better app-controlled long-distance sex toys out there, making it one of the best sex toys for couples for sure.
How to use the Satisfyer Heated Thrill Connect App and how it was
When testing, I was really pleasantly surprised - I'd heard the hype but didn't expect it to be this good. Top tip for you: if you want to fully enjoy the heated sensations, press the temperature button a few minutes before play. Once warmed up, you can feel a noticeable difference in how the sex toy feels when it has reached its maximum temperature of 39°C.
I found the toy easy to use and the handle amazing for helping to add motion to my G-spot play. (Essentially, using the handle to rock the sex toy back and forth can help you experience a more intense orgasm). I also discovered that the insertable shaft has a powerful motor, too, which means that you can experience a lot of pleasure even while the Heated Thrill is static and motionless. Simply lie back and enjoy...
It's both natural and comfortable to use - I'm a big fan.
How to keep it maintained and clean
Wash the Satisfyer Heated Thrill in warm water and with your standard sex toy cleaner for the best experience.
Once clean, make sure it's fully dry before storing the vibrator separately away from other sex toys to avoid damage to the silicone.
About the brand Satisfyer
Satisfyer launched as a sex toy brand back in 2016 and has gone from strength to strength - it's now stocked in over 100 countries with a product range of over 200 toys.
Fun fact: they've won more than 180 awards since they started production, and in 2021, they won a CES 2021 Innovation Awards Honoree for their Satisfyer Connect App. Seems I'm not the only one who's a fan...
Should I buy it?
In a word: yes. This is my favourite G-spot sex toy, and if you're into G-spot-designed shapes, then this one is a must for your collection.
I love all the extra functions it has and how easy they are to use. Only one problem: I'm now left wishing more sex toys also had a heat function, too..
Celebrity news, beauty, fashion advice, and fascinating features, delivered straight to your inbox!
Ness Cooper is a Sex and Relationship Expert and Writer. She's been a freelance writer for over 10 years, knowledgeable in all areas of human sexuality and has a special interest in sex toys and tech.
Ness has been nominated for many awards during her career. From ETO's Best Erotic Journalist, to Best Sexologist at the 2022 Sexual freedom Awards.
Her first published pieces were theatre reviews, written for her local paper when she was 13. I think we can all agree that she now reviews more fun items.
Not only does she write down-to-earth sex and relationship articles, she tests sex toys, including prototypes. She knows what works and what doesn't with sex tech and sexual pleasure!
Ness is always training and trying to expand her skills. This has led her to train in Pelvic Floor Biomechanics and Pilates. Her pursuit of knowledge has also taken her to the Kinsey Institute in the US, where she studied human sexuality.
With a background in sex and relationship therapy, coaching, and education, she's one of the UK's leading Sex and Relationship Coaches and Sexologists. She helps people to find their authentic sexuality and sexual happiness and teaches Sexology to other human sexuality professionals.
Ness also offers 1-2-1 coaching and group sessions.