Stop wrinkles with a bee sting
Being stung by a bee could make you look younger according to scientists who hail the poison as a miracle anti-ageing treatment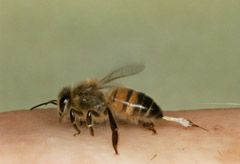 (Image credit: REX)
Being stung by a bee could make you look younger according to scientists who hail the poison as a miracle anti-ageing treatment
It might not sound that appealing but scientists believe the venom in bee stings can boost collagen, which gives skin its youthful elasticity and make it less susceptible to sun damage.
Bee venom has been a celebrity fad for years in salons and spas but now a skincare range contining the poison will be available on the high street, after 12 years of research.
Inventor Dr Sang Mi Han claims it is the next best alternative to botox and devised the product for New Zealand beauty company Manuka Doctor, which was released into Holland and Barrett stores on Monday.
'I have done extensive research and clinical trials which prove that purified bee venom can help with collagen formation and prevent sun damage,' says Dr Han who's promoting the new 'bee stung' beauty treatment.
'Exposure to the sun is one of the main causes of wrinkles because UV light increases levels of proteins which are responsible for the degradation of collagen in the skin,' she says. 'This is what leaves it lacking in elasticity, sagging and wrinkling as we age.'
KATE MIDDLETON'S NEW BEAUTY SECRET REVEALED
Yesterday, the Duchess of Cornwall revealed that she had sampled Deborah Mitchell's bee sting facial and Dannii Minogue is also said to be an fan of the treatment.
CLICK HERE FOR MORE BEAUTY NEWS
Celebrity news, beauty, fashion advice, and fascinating features, delivered straight to your inbox!