Your guide to CrossFit for beginners - the sweat session promising to transform both your physical and mental health
WOD at the ready.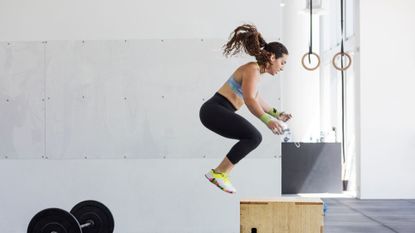 (Image credit: Getty Images)
Feel like you've heard friends raving about CrossFit but still unsure as to what the workout, well, actually is? Don't worry - you're not alone. Despite it exploding in popularity over the past few years - the brand shares that there are roughly five million CrossFitters around the world and the hashtag #crossfit has 8.5B views on TikTok - many remain unsure whether the session actually entails. Which is where our expert-led guide to CrossFit for beginners comes in.
If you're scratching your head about whether it's a form of strength training, cardio, or a hybrid of both, let us explain. CrossFit is a style of high-intensity exercise that incorporates functional movement to boost your stamina, strength, agility and balance - think box jumps, pull ups, deadlifts and more.
And it's only getting more popular. Case in point: CrossFit grew in interest 173.21% last year, making it the second fastest-growing fitness trend of 2022, coming a close second to TikTok's viral 12-3-30 workout, according to PureGym's trend report.
"It's gained a cult following since its inception in California in 2000," explains Stephen Rowe, Chief Marketing Officer at PureGym.
That said, there are some people who are still apprehensive to try CrossFit as they're not sure what it entails. That's why we've spoken to fitness trainer Aurora Gallacher who works at the world's leading sports and fitness resort Club La Santa to share the common misconceptions about the workout and share her top tips for first-timers, too. Keep scrolling.
Your guide to CrossFit for beginners
What is CrossFit?
First things first - a bit about what the workout actually entails. As above, it's a high-intensity training method that involves a variety of movements.
These vary each day, and "can include weightlifting, gymnastics, bodyweight exercises and monostructural cardio exercises," Gallacher explains. "Also expect different movements, rep schemes, loads and time domains," she continues.
Not sure what that means? Essentially, on Monday you might head down for a 20-set EMOM (that's every minute on the minute, FYI) where you have to complete 15 ball slams every minute on the minute. Tuesday, on the other hand, might be more gymnastics-focused and include muscle-ups, pull-ups, and so on. Come Wednesday, you might be using barbells and dumbbells to do push presses, deadlifts, and jerk and cleans - what makes CrossFit unique is that it's always different, keeping you challenged.
FYI - the expert reassures that you don't need to be fit to do CrossFit. That said, you will get fit by doing it. "Every workout can be adapted to suit all abilities, meaning classes are for everyone," she explains.
She goes on to add that the athletes that you see on documentaries at the CrossFit Games are a tiny percentage of those who do CrossFit on a regular basis. There's no need to feel nervous about trying out CrossFit - it's an incredibly welcoming environment, she reassures.
Also worth noting: CrossFit happens in what the community calls a "box" (read: studio), so if you hear a friend talking about their local CrossFit box, they simply mean local CrossFit studio or gym space.
Benefits of CrossFit
Fun fact: the benefits of CrossFit are actually as varied as the workout itself.
They include:
Works on cardiovascular endurance
Boosts stamina
Improves strength
Increases flexibility
Improves power and speed
Benefits agility
Can aid fat loss.
Not to mention the fact CrossFit is well-known for its community spirit. "Crossfit uses a group training setting that has created a community of like-minded fitness aficionados across the world," Gallacher explains.
This community aspect of CrossFit is something that separates it from training in a regular commercial gym, she goes on. Comradery is a big part of CrossFit, and it's common to grab a high five with your fellow athletes after a workout, spend time together outside of the gym, and even bring your kids to the CrossFit box so people who aren't training can look after them.
This community spirit is what keeps people going back time and time again - that, and the feel-good endorphins, of course.
Is CrossFit safe?
When it comes to CrossFit, there's a common misconception that the workout isn't the safest (we've no doubt the social media videos with athletes doing wild, unattainable challenges play a small part).
That said, Gallacher reassures that it's totally safe and a great way to train, if you're keen to try a new workout. "While there will always be a risk of injury while taking part in any exercise, there is no evidence to suggest that CrossFit is any more dangerous than other training methods," she explains.
Not to mention the fact that most CrossFit workouts are stereotypically done at a "box" where you're under the supervision of a qualified instructor. "All classes will start with warm-up exercises and end with cool-down exercises, plus your coach will make sure that you are moving safely and correctly throughout," she adds. They're trained to make sure to cater for all abilities, injuries, and so on.
Tips for CrossFit beginners
So, we've convinced you to give the workout a go. Enjoy - but do make sure to scroll Gallacher's top tips for CrossFit beginners, before you head to your local box.
Find a qualified CrossFit affiliate coach
Start slow and at your own pace - don't try to copy the pros
Spend time focusing on your technique
Build up weights slowly - don't go for a higher weight just because everyone else is
Don't compare yourself - focus on your own workout
Keep a record of the time, weight and reps you achieve - so you can monitor progress and how far you have come
All the CrossFit abbreviations you will hear in the gym (box)
Another important part of any CrossFit workout is the terminology - which can seem confusing but is actually super simple once you get your head around it.
If you hear the following, it simply means:
CF/X-FIT: means CrossFit
Box: the CF/X-FIT term for a CrossFit gym.
WOD: Workout of the day
AMRAP: As many reps/rounds as possible
EMOM: Every minute on the minute
FT: For time
PB: Personal best
PR: Personal record
RM: Rep max
METCON: metabolic conditioning workout
The girls: A group of benchmark workouts used to be retested over time to measure progression
Crossfit for beginners: 5 sessions to try at home tonight
While more traditional CrossFit workouts will always take place at your local box, below are variations of the workout that you can try from the comfort of your own home.
1. 5-minute CrossFit workout for beginners
2. 9-minute CrossFit ab home workout
3. 15-minute CrossFit home workout
4. 30-minute CrossFit workout for beginners
5. 40-minute Crossfit WOD (Workout of the Day)
Happy sweating.
Celebrity news, beauty, fashion advice, and fascinating features, delivered straight to your inbox!
Dionne Brighton is a writer at Marie Claire UK, specialising in all things shopping, beauty and fashion. Born and raised in North London, she studied Literature at the University of East Anglia before taking the leap into journalism. These days, you can find her testing out the latest TikTok beauty trends or finding out what the next full Moon means.