Resistance band workouts are the most effective way to get fit from home - 5 a personal trainer swears by
One small piece of kit = total body burn.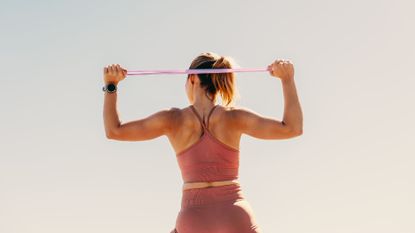 (Image credit: Getty Images)
Did you know? Resistance band workouts are one of the most effective ways to exercise. Whether you're looking to build strength as a beginner, want to fire up your muscles from home or just fancy a new way to move your body, any sweat session with a resistance band is a good place to start.
For reference, resistance bands are rubber loops that add extra resistance to your workouts that cost around £10 to buy, making them one of the cheapest ways to add a bit of burn to any session. Case in point: they've been scientifically proven to be seriously effective, with one 2019 review from SAGE Open Medicine reporting that resistance bands can provide similar strength gains to lifting weights. Yep, the tiny bands can pack a punch.
Bottom line: they're great for both beginners and those of you looking for a more advanced sweat session, with clear opportunities to progress as you get stronger and your endurance improves.
If you don't know where to start with resistance bands, read our guide to resistance band exercises so you can learn all about proper form and technique, and don't forget to read up on the best resistance bands before you buy. For now - keep scrolling for a personal trainer's go-to resistance band workouts.
Resistance band workouts: your guide
5 benefits of working out with a resistance band
You now know what a resistance band is and that workouts with them can be more effective than strength training - but what other perks do the little bands pack?
Well, there are a few. One benefit of working out with resistance bands, according to researchers, is how affordable they are in comparison to signing up for a gym or going to a class: a few bands can see you through months, if not years, of resistance-based workouts.
Another reason resistance bands are so ideal is because they take up much less space than a home gym that involves weights. Yep, the small bands can be folded up and stored so you only need to look at them when you want to get a sweat on.
Not only that, but they can be used for a range of workouts and to fit a variety of fitness goals. "Resistance bands are really versatile and can be adapted to support a variety of fitness goals," agrees personal trainer and founder of Ladies Who Crunch, Nancy Best. Plus, they're seriously effective. "They can target small muscle groups for activation before compound exercises," she continues. As an example, firing up your glutes with some resistance band drills before you do squats or deadlifts, can help your body perform at its best.
Last but by no means least, they can build functional mobility, too. "If you're trying to loosen your hamstrings or shoulders, a resistance band can help you improve your range of motion," she shares.
Which resistance band should I buy?
There are lots of different styles of resistance bands and the best one for your will depend on your goals.
Remember that for strength gains, you have to be challenging your muscles, so make sure you buy one that provides enough resistance for your muscles to be shaking. If you're using a resistance band for warm ups and muscle activation, you can get away with some lighter bands.
Buy for: Best resistance band for strength.
What the expert says: Home workouts can be great for getting your heart rate up but often lack the resistance needed to build strength and muscle. With these heavy resistance bands, you'll be really challenging the muscles similarly to using weights and feel like jelly after your 12x3 sets.
Hybrid Short Loop Resistance Bands
Buy for: Best resistance band for activation.
What the expert says: I use these bands when doing warm up exercises and activation part of my workout as they are heavy enough to get the muscles firing but not so intense that they wear me out before I've even started. There's a great variety of resistance, so I use the heavier bands to activate my glutes and legs and the lighter bands to warm up my upper body before training.
5 best resistance band workouts
There are so many follow-along resistance band workouts out there, but Best has a clear favourite. "I recommend anything from Heather Robertson's YouTube - her videos are visually clear, with demonstrations of how each exercise should look from multiple angles," she shares. This is helpful... why? The PT explains: "this is key for ensuring your spinal alignment is correct and you're replicating the depth of each exercise."
Not to mention the pace of her resistance band workouts are also accessible, making them suitable for all. "There's a focus on solid technique and slow reps, rather than rushing through tonnes of exercises at speed, which doesn't have much impact beyond raising your heart rate."
Below are some Best-approved resistance band workouts to try, whether you're warming up or building muscle.
1. Full Body Mini Band Workout
What? A workout that targets the entire body at a rapid pace. You'll squat, row and plank using the band for resistance. Plus, as it's short and sweet, it's a great option for busy days. Got time to spare but like this routine? Repeat the workout two or three times for a longer workout.
How long ? 8 minutes.
2. Mini Band Booty Workout
What? As a quick-fire glute workout, this is perfect for activating your glutes before compound exercises, as Best suggested earlier. Alternatively, do it alongside an upper-body resistance band workout for a well-rounded workout.
How long? 12 minutes.
3. Back Resistance Band Workout
What? With just six exercises and one resistance band, this workout is a brilliant way to strengthen and engage your back to loosen any aches and pains from sitting at a desk all day. As it's only short, you can do it on your lunch while WFH and still have time for a decent break.
How long for? 12 minutes.
4. Booty Band HIIT
What? If you prefer your workouts to be high-intensity, this resistance band HIIT workout will be right up your street. Activating the muscles with the band will keep your joints safe while you jump too - a great all-rounder.
How long? 16 minutes.
5. Full Body Mini Resistance Band Workout
What? In this video, Robertson targets almost every single muscle in the body - glutes, quads, shoulders, back, chest and abdominals - making it a great full body workout if ever we saw one.
How long? 25 minutes.
Do resistance bands actually work?
Yep, they do - as several research papers and studies have proven. Take this 2019 study, which found that resistance band workouts "are able to promote similar strength gains to conventional resistance training."
Nancy Best, personal trainer and founder of Ladies Who Crunch, agrees, confirming: "They can target small muscle groups for activation before compound exercises - as an example, firing up your glutes with some resistance band drills before you do squats or deadlifts, can help your body perform at its best."
Celebrity news, beauty, fashion advice, and fascinating features, delivered straight to your inbox!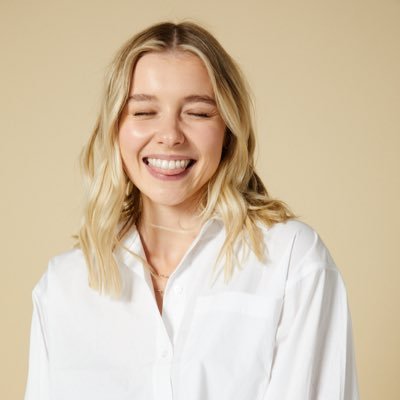 Contributing Health Writer
Chloe Gray is a freelance journalist who writes and talks about health, fitness, and wellbeing through a feminist lens. She was part of the launch team for Stylist magazine's fitness brand, Strong Women, and has written for i news, Women's Health, Red magazine, Good Housekeeping, Refinery29, and more. She's all about building mental and physical strength, eating delicious food that fuels you well, and making the fitness industry more accessible and enjoyable. She's also a qualified fitness trainer and research nerd, so you can be sure everything you read is backed by proper science.