I'm a fussy Health Editor who wears lululemon kit every single week - these are my 20 Cyber Monday picks
They're offering up to 60% off.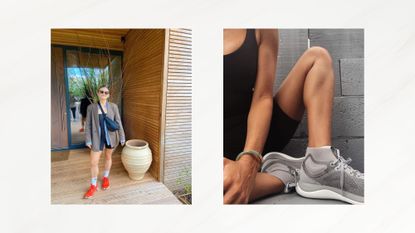 (Image credit: Ally Head)
If you're someone who works out a lot and is keen to invest in kit that looks great, feels better, and will last a lifetime, it's time you checked out the lululemon Cyber Monday offering.
As the Health and Sustainability Editor here at Marie Claire UK, I'm not the biggest fan of Black Friday or Cyber Monday. It encourages overconsumption and bombards you with discounts left, right, and centre.
That said, I am a fan of using the weekend to invest in items you perhaps otherwise wouldn't have been able to afford and that you'll use for years to come. This year more than ever, it's important to spend sensibly and only opt for items you'll genuinely use.
That's where lululemon comes in - hands down my favourite brand for working out, walking, and even lounging in. Their new Wundermost basics are also my go-to for relaxed and comfortable day wear.
Why should you trust me? Well, I'm a nine-time marathon runner and Health Editor who tests kit for a living and works out five times a week. I wear lulu for the majority of these, opting for the Wunder Train short, Energy bra and Power Stride sock for the Berlin Marathon last month. The brand is known for making some of the best gym leggings on the planet for good reason - they're a one-stop-shop for excellent quality gym kit that's both flattering and functional.
The only problem? Their products are an investment, which is why shopping the brand this weekend is a good idea, while it's at its most affordable.
Ready to shop Kate Middleton's favourite, the Define jacket (Reese Witherspoon and Kim Kardashian are also fans), and my all-time favourite picks, too? Keep scrolling.
Shop the best Cyber Monday health offers now:
lululemon Cyber Monday 2023: 20 must-buys
Lululemon leggings offers
lululemon layers offers
lululemon tops offers
lululemon sports bras offers