How to stay active (in a festive way) this December
Need a break from the gym over the Christmas season but still want to enjoy all the festive fun? Indulge in these fun activities instead. Mince pies optional…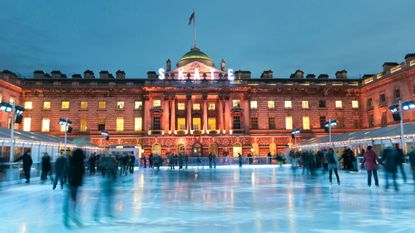 (Image credit: Rex Features (Shutterstock))
Need a break from the gym over the Christmas season but still want to enjoy all the festive fun? Indulge in these fun activities instead. Mince pies optional…
Christmas is coming and, er, we're feeling pretty sluggish already. Mulled wine, mince pies, festive parties galore, and an endless supply of office Quality Street means the amount we consume in the run-up to the holidays is often off the scale – and that's even before we get to the turkey and all the trimmings. In fact, according to research, on average we'll drink 4,000 calories pre-Christmas and eat around 7,000 calories on the big day. So how can we enjoy the festive fun and still slip into that spangly new jumpsuit, especially when Malteser Reindeers have become one of our five a day (or is that just us?).
'Many people fall off the exercise bandwagon at Christmas, or rule out the idea of getting into shape during the festive period, assuming there is no point in starting until the New Year,' says fitness consultant Dean Hodgkin. 'But given that one of the biggest barriers to exercise is lack of time, a break from the usual routine can provide the ideal opportunity to begin or maintain physical activity.'
(Santa) hats off to those of you who will religiously stick to your gym timetable, but for the rest of us who find the lure of Bailey's and multiple mince pies more appealing, here's how you can get fit, not fat, over the festive season.
1. Get your skates on and hit your nearest ice rink. No need to perfect your triple axel beforehand, just wrap up warm and have some fun! Our favourite skating venues are: Somerset House, London (17 Nov-15 Jan 2017); the Eden Project, Cornwall (open now until 19 February 2017); the Princes Street Gardens Ice Rink, Edinburgh (18 November-7 January 2017).
2. Go for a brisk walk in the woods. There's nothing better than a stroll in the crisp winter air to put some colour in your cheeks and work off all those roast potatoes. Bored of the same old route? Check out The Festival Of Winter Walks (17 December-Sunday 8 January 2017).
3. Try a game of Twister with the family. Maybe not immediately post-Christmas dinner, as you'll be getting into all sorts of strange positions, but what better way to prise yourself off the sofa and stop everyone fighting over the TV remote? (£14.99).
4. Sign up to a Santa run with your mates. Not only is it a great thing to do as a group, but you'll also be raising money for charity. And you don't have to be Usain Bolt – you can walk the course if you like – it's all about having fun. Plus, you get to wear a Santa suit. What's not to like? (20 November-18 December all over the country).
5. Throw some shapes on the dance floor or at home in your living room to all your favourite festive tunes. With so many amazing tracks to choose from (who doesn't love a bit of Mariah), it would be rude not to.
Celebrity news, beauty, fashion advice, and fascinating features, delivered straight to your inbox!