Cameron opposes anti-abortion reforms
The Prime Minister has made clear that he will oppose plans to make changes to the long-established rules on advice given to pregnant women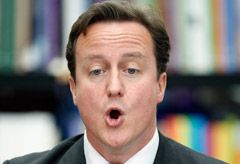 (Image credit: PA Photos)
The Prime Minister has made clear that he will oppose plans to make changes to the long-established rules on advice given to pregnant women
David Cameron will next week oppose plans to introduce independent counselling for women considering an abortion, voting against proposals put forward by pro-life campaigners.
The government's opposition follows confirmation that the Department of Health would change the rules to ensure that women are offered independent counselling, which could prevent 60,000 terminations.
The issue will be debated in the Commons, but Mr Cameron has made clear he will vote against the amendments to the Health Bill proposed by backbench Tory MP Nadine Dorries.
'The discussions currently under way do not represent any moral shift in the Government's approach to abortion as an issue, and there are no changes to the Abortion Act involved,' says a Downing Street spokesperson.
'Instead the concern is to ensure that women, in what is an extremely difficult and often traumatic situation, have access to information and counselling that best meets their needs.'
The proposed changes would introduce a mandatory obligation on abortion clinics to offer women access to independent counselling run on separate premises by a group that are not involved in carrying out abortions.
But Mrs Dorries says abortion services such as Marie Stopes and the British Pregnancy Advisory Service have a financial conflict of interest in advising women seeking terminations, claiming independent counselling could prevent unnecessary abortions.
Dr Evan Harris of the British Medical Association says: 'There is no evidence of a real problem and there is clear evidence of a risk to women in disrupting the current arrangements.'
Celebrity news, beauty, fashion advice, and fascinating features, delivered straight to your inbox!